Ok so you've got your Valentine e-cards all ready to send, your Valentine flowers are on order, you've even got your Valentine theme iPod case
all wrapped up for your sweetie or teeny bopper but what about a little love for yourself. (what do you mean you bought the valentine theme iPod case for you - naughty naughty)
Well if you are looking for a little something to relax and enjoy now that you have all these things checked off your to-do list try Yoplait YoPlus yogurt. We've tried a couple flavors so far and they are mighty tasty. Plus as you might infer from the "Plus" they have a little extra that other yogurts don't always have. Yoplait YoPlus is loaded with antioxidant vitamins A and E, fiber and probiotics for digestive health, and calcium and vitamin D for bone health. Let me touch on a couple of those ingredients if I may.
First off the vitamin D is very important not only for bone health but it is great for cold and flu season because higher vitamin D levels are known to be naturally immune boosting. Vitamin C and zinc get the celebrity treatment when it comes to cold and flu season but vitamin D may actually be more effective in fighting off the sniffles and sneezes.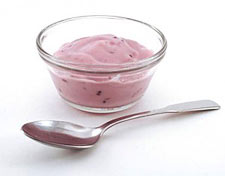 Second the probiotics in Yoplait YoPlus are basically the good bacteria the body needs to regulate digestion and keep the bad bacteria from causing any number of health problems. It is also good to note that YoPlus has the prebiotic fiber inulin from chicory root extract which is necessary to help keep good-for-you types of bacteria strong and effective.
If you are looking for creative and healthy Valentine ideas or just a fun Valentine's day activity for kids try this fun and easy yogurt shaped frozen treat recipe. This homemade Valentine treat idea comes from the February issue of "Your Big Backyard" magazine.
What you'll need:
1. Your favorite yogurt - like Yoplait Yo-Plus for example
2. Several heart shaped cookie cutters
Here's the fun part:
1. Place the cookie cutters on a plate or baking pan
2. Fill each heart shaped cookie cutter with yogurt
2b. make sure you sample some yogurt (what's kitchen fun without some free taste testing - plus you'll need the extra nutrients in the yogurt to help fend off the barrage of "is it ready yet" every 2 minutes)
3. Place your heart shaped creations in the 'ol freezer for a couple hours
4. Lift off the cookie cutters and have some tasty healthy Valentine treats - yum yum