We all want safe cleaning products without all the nasty chemicals and that's why green cleaning products are all the rage these days. But with this simple orange vinegar recipe you can take the Do it Yourself approach to green cleaning at a fraction of the cost.
Orange Vinegar: My Super Simple Homemade All Purpose Cleaner Recipe
In a pint size mason jar, I combined the peels of about 2 oranges and covered them with white vinegar. After letting them sit in a sunny windowsill for about a week, I removed some of the liquid when it was time to clean the bathroom counter tops. You can leave the rest to continue brewing for a few more weeks as it'll continue to get stronger. Simply put some of your new homemade all purpose cleaner into a spray bottle and clean like normal.
For me, it worked as you would expect and had a pleasant citrus aroma that I really enjoyed, much better than the chemical smell of some harsh cleaners!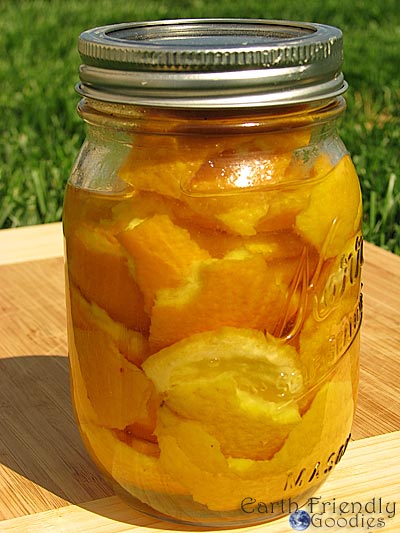 As more of us realize the need to pursue green cleaning products that are family safe, I find simple homemade cleaning recipes such as this very refreshing. You can save a lot of money over store prices, it is better for the environment, and they are effective. Plus citrus isn't recommended in worm composting bins, so this is a great way to get a second life out of those pesky peels.
Although I have cleaned with vinegar in the past, and know it works, I rarely stick to it because of the objectionable smell. Adding citrus peels to the vinegar solves this little quirk in a fun way and actually gives you something to look forward to when you clean. I use this orange vinegar cleaner on counter tops, mirrors and the sink. I'm sure it has many additional uses as say a homemade toilet bowl cleaner or even homemade citrus degreaser. Plus watching the jar of citrus peels sunbathe on your windowsill is quite a beautiful spectacle. It is sure to get noticed when you have guests. Don't be surprised when they go home and make some too!
Homemade All Purpose Cleaner Variations Using Vinegar
To add color and variation, next time I am planning to add a mixture of grapefruit, lemon, lime, and orange peels. I know lemons are great for cleaning as they have antiseptic properties, and are great for removing odors and grease. I imagine other citrus also shares these properties, to varying extents. Now if I could just get my hands on some pH litmus paper I could test it. But for now, I am quite happy just appreciating the scent and the results of this homemade orange vinegar cleaner with my own eyes. Happy cleaning!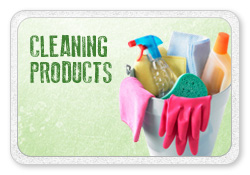 Some of the best cleaning products are so simple you can make them yourself, but if you just don't have the time to make everything yourself here are some natural cleaning products we recommend from companies we trust. No harsh chemicals, toxins or phthalates in these green cleaning products - no way!
Pin This Simple Orange Vinegar Recipe for Later