I've been dying to try Earth Shoes ever since I first read about them – so far I am still procrastinating but after reading that Planet Shoes has a summer sale going on I may have to put off putting it off. Take these wicked cool Earth Port sandals for example, as with all Earth Shoes they help strengthen and tone the body (and bum) while also burning calories because of a slightly inclined sole.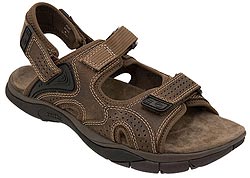 These Earth Port Sandals have the comfort and ease of a slip on with the option of going off road by adding a back strap – now that's a useful sandal. Add the fact that it has the fancy sounding Kalso® Negative Heel Technology® that beefs up the muscles in your legs and you have a high tech sandal that looks good and makes you feel even better. Haven't heard of the Kalso® Negative Heel Technology®? Well, the fore mentioned slight incline of Kalso® Negative Heel Technology® Earth Shoes lets you feel as if you're walking on an inclined treadmill, and can contribute to a fat-burning effect up to 4x that of regular shoes. (That's a fancy way of saying the more you walk the sexier your bum gets and that's a lot of registered trademark symbols in one paragraph too )
So bottom line is you pay a bit more for a great looking sandal that helps you tone and lose weight and you get to drop that expensive gym membership that you don't use anyway. (We don't recommend you really stop going to the gym though – where else will you meet that guy or girl of your dreams with the sexy bod – certainly not the frozen food section of the grocery store – except maybe the organic frozen food section)
Oh, yah and they are on sale – did I mention that? I don't know for how long but you can check out all the sales at Planet Shoes HERE
Kapow up to 70% off just like that (I should get some cashola for referring you – so thanks in advance from the bottom of my empty wallet).
Hey, Styles Change and Fad's go Away but These Earth Shoes are Here to Stay
Have a rootin' tootin' good 'ol day with your new Earth Shoes!