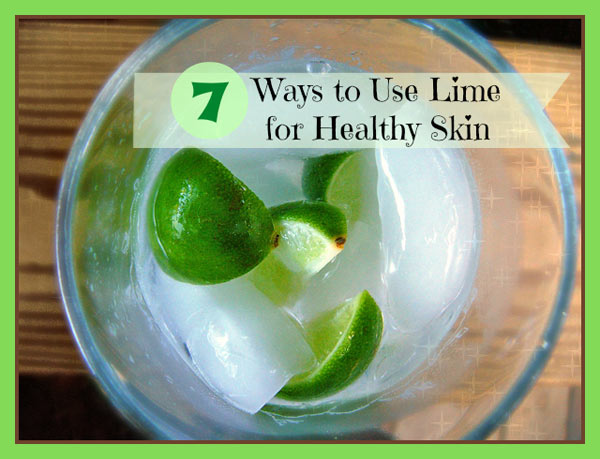 Did you know the good 'ol lime is a powerhouse of natural health and beautiful skin? The easily overlooked little cousin to the lemon is in fact one of the best natural cures for bad skin and may in fact be one of the hidden secrets to the fountain of youth. I was looking through one of those free natural health publications that you find outside "good for you" grocery stores and I happened upon a little one paragraph blurb about the effects of lime juice on the face and skin - my curiosity was peaked.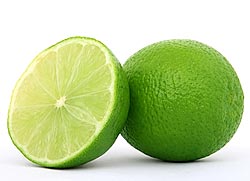 It turns out all citrus fruits contain some pretty powerful anti-cancer antioxidants (hesperidin, lycopene, citric acid, limonene, and others) which of course we hear about the benefits of eating or drinking lots of citrus for that very reason, but what we don't hear as often is the effects of using citrus and especially lime directly on our skin.
These healing properties, as well as lime's refreshing and clarifying qualities, make lime an especially nice ingredient in topical preparations or skin care. Dr. Jody Alpert Levine, who heads the division of pediatric dermatology at Montefiore Hospital in Bronx, New York, says, "Lime's astringent, antiseptic, and disinfectant qualities are good for treating oily and acne-prone skin."
So here are a few natural uses for lime which will give all of us that wonderful youthful skin we so desire. (caution: be prepared to answer a lot of questions on what's your secret to youthful beautiful skin - shh don't tell...)
7 Homemade Lime Skin Care Recipes for Healthy Skin
1. Extra Special and Secret (well not any more) Lime Juice Formula
Squeeze a lime into a bowl. Add a glass of boiled whole milk and a teaspoon of glycerin. Stir well and let it sit for half an hour. Apply this mixture on the face, hands and feet before going to bed at night. This treatment every night will help you look even younger and more beautiful than you already are. It is also a great natural cure for acne.
2. To improve a dull and greasy complexion
Mix half teaspoon of lime juice with one teaspoon of cucumber juice and a few drops of rose water. Apply on the face and neck and leave on for 15 minutes. Rinse with water. This works because lime is a natural antibiotic. Acne occurs when dirt, oils and dead skin cells clog your pores - thus the dull greasy complexion. All this gunk gets trapped in the pores along with bacteria that causes inflammation. Since lime is good at fighting bacteria it is a natural defense against acne and facial blemishes.
3. For very oily skin
Squeeze lime juice in a bowl of ice water. Splash this over the face, massage for five minutes and then rinse with water. This works because lime is a natural astringent which causes a temporary tightening of the pores and reduces oil production. This in combination with the cold water which also tightens pores is an excellent treatment for oily skin.
4. To improve dry rough skin
Take an egg yolk and mix in a few drops of lime and olive oil. Spread on the face and leave it until the skin feels dry. Wash off with water and splash on cold water to help tone the skin. The egg is a great source of protein which enriches the skin and the olive oil helps moisturize. You can also use coconut oil which has many healing properties as well.
5. To relieve tired eyes
Take four tablespoons each of lime juice and ice water. Soak cotton balls in this water and place over your closed eyelids for 10 minutes. A quick pick me up and eye rejuvenation, you'll feel a burst of energy to recover from a long day.
6. To remove freckles
Surprisingly enough lime can actually lighten your skin and potentially remove freckles or mild pigmentation. It isn't an immediate removal but if you have dark patches you'd like to lighten try this simple lime skin care recipe. Blanch and grind two almonds, mix it with egg white and a half teaspoon of lime juice. Spread on the face and leave it on until the skin feels dry. Then, wash off first with warm water and then with cold water. Even if you don't use this recipe to remove freckles it makes a nice spa-like facial masque.
7. Lime Exfoliation:
This lime skin care recipe works perfectly along with a nice steamy shower, in fact it might get a bit messy if you try it elsewhere. When you are in the shower simply cut a lime in half and scrub each half all over your body. Let the lime juice sit on your skin awhile as you enjoy the nice hot steam. This works great as an exfoliation because lime contain citric acid and enzymes that help remove dead skin. Removing dead skin prevents clogged pores which can lead to acne.
For extra exfoliation super powers you can make your own lime sugar scrub in 3 easy steps. Simply combine 1/2 cup sugar, 1/4 cup coconut oil or olive oil and the juice of one lime.
If you aren't the do it yourself type look for natural organic lime skin care products to get many of the same healing effects. Below are some current organic lime skincare products for sale on eBay including lip balms, facial washes and toners, lime cleansing masques and perhaps some pure lime essential oils so you can make your own youthful lime skin care concoctions.