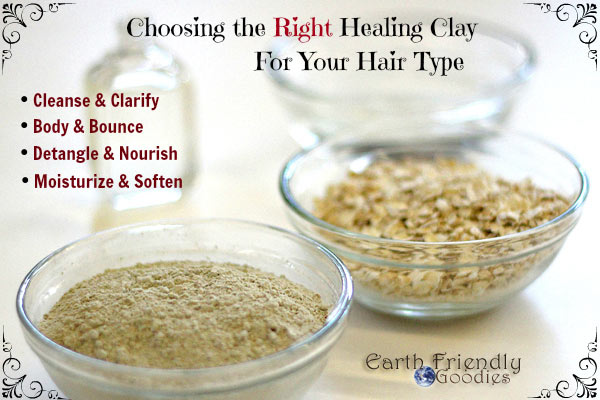 Nature has given us so many things that have become truly essential for our health and beauty. Let's take for example the healing clay. A type of soil that comes from the Earth. Clay has been used by ancient Egyptians for its ability to detoxify, heal and revitalize the body.
Most known as a face mask clay has been used on various other parts of the body including the hair. Today, many women in the know take advantage of this secret beauty regimen. One of the most highly sought after healing clays is Bentonite clay for hair. It's great for treating your tricky tresses and acts as a delightful hair detox.
There are different types of clay masks that can be used on the hair. They differ in color and mineral composition. Each may have its own benefits, but what you really want to know is which is best for the hair. Here are the most popular hair clay masks on the market right now:
1. Bentonite Clay
This Aztec Secret Indian Healing Clay
is a type of sedimentary clay sourced from volcanic ash that has been weathered and aged. Its texture is fine and velvety; it carries no smell and does not stain. Usually available in powder form, bentonite clay is highly porous and can quickly absorb and retain water.
Wondering what does bentonite clay do for your hair? When applied on the hair as a mask it can give you the following benefits:
Deep Clean - Like most clays, bentonite has the ability to remove any dirt on the hair. More than just cleaning through the strands, it can detoxify the scalp, eliminating any toxins or impurities in it. Any contaminants that are expelled by the body through the scalp are cleaned out.
Clarify - Aside from removing dirt and toxins, Indian healing clay can also eliminate any build-up or residue on the hair that comes from styling products, water, shampoo or the environment. Toxins and dirt naturally bind onto the clay and are removed.
Moisturize and Soften- Despite cleaning the hair deeply and clarifying it, a bentonite clay mask for hair will not leave your lovely locks dry. Since it is highly absorbent, it can also seal in moisture leaving the hair soft and naturally silky.
Nourish- Filled with many minerals, it can provide the hair with a variety of organic deposits that will nurture it. Bentonite clay naturally contains silica, potassium, calcium, magnesium, aluminum, iron, sodium and titanium.
Cons: Being quite dark in color, this clay is a bit messy to work with and time consuming as well.
2. Kaolin Clay
Sometimes called ceramic clay, China clay and white cosmetic clay, it is often used in the manufacture of beauty products. However, it is also beneficial for the hair. Kaolin Clay
comes from a hydrated aluminum silicate crystalline mineral known as kaolinite which comes from decomposed granite rocks. The soft white or sometimes yellow powder form can be used to make hair masks. This gives you the following benefits:
Exfoliating- Instead of just keeping dirt away from the hair, it can also exfoliate the scalp. Often massaged into the scalp, Kaolin clay helps improve blood circulation while cleansing.
Gentle Cleansing- Having a pH of 6.0, which is the lowest among all clays, it is also the most gentle. It is suitable for sensitive skin as it does not cause any irritation.
Oil Retention- Despite cleaning the hair and scalp thoroughly, Kaolin Clay does not strip the hair and scalp of its natural oils. This makes it suitable to use for people with dry and brittle hair since it still keeps in moisture.
Repair and Condition- Containing a high amount of silicon oxide along with aluminum oxide, iron oxide and titanium oxide kaolin clay has the ability to strengthen hair. It also improves elasticity, encourages growth and leaves the hair feeling soft and tangle free.
Cons: It is only available mostly in bulk. Application can also get messy.
3. Rhassoul Clay
More popularly known as red clay, red Moroccan clay and Ghassoul clay, the Rhassoul Clay
is found in the ancient Atlas Mountains of northern Morocco. Used for more than 1400 years in a variety of beauty products it is known for its deep red to brown color. Like other types of clay it brings numerous benefits when using on the hair. Here are some of the Rhassoul clay benefits you can get:
Cleansing and Clarifying – Just like the other clays, Rhassoul clay cleanses the hair by absorbing the dirt and impurities embedded in the strands. It also has the ability to unclog pores and eliminate toxins in the scalp for a cleansing effect.
Strengthen and Moisturize- Similarly to Kaolin, this clay does not remove all of the protective oils of the scalp during cleansing. The hair's natural oils are retained leaving hair with ample moisture to prevent brittleness and breakage in the strands.
Heal- With components such as Silica, iron, sodium, magnesium, aluminum and calcium, this mineral-rich clay is an effective treatment for scalp problems. Rhassoul clay for hair has been used to cure issues like flakiness, dandruff and even psoriasis on the scalp. At the same time it also stimulates hair growth.
Detangling, Body and Bounce- Most clays offer conditioning for the hair leaving it softer and smoother. However, Rhassoul clay does more, because aside from making the hair soft it also gives it more volume creating body and bounce.
Cons: Due to its natural color a clay mask made from Rhassoul may be a bit messier to work with and is also time consuming. This variety of clay is also usually available only online.
How to Decide Which Healing Clay is Best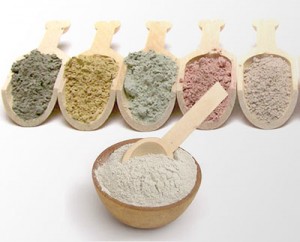 There is no doubt that the use of a clay mask for hair is advantageous. Given that each of these clays provides the hair with many benefits, deciding on which one is the best to use depends on the hair type.
Bentonite clay is a good choice for people with oily and thick hair since it provides deep cleansing and can remove any excess sebum. On the other hand, people with sensitive scalp will benefit from using kaolin clay since it is the gentlest of the three types of clay. Lastly, those with dry, limp hair and scalp problems may opt for a Rhassoul clay mask which has excellent moisturizing properties.
How to Apply a Hair Mask to Help Detox Your Hair
No matter the type of healing clay you choose the process of applying a hair mask is the same.
Gently rub a handful of your favorite clay into your hair starting at the roots and work down. Repeat the process until all your hair is coated. Leave the mixture in between 5 minutes and 20 minutes.
Make sure the clay does not dry out. Rinse your hair with warm water, or for an extra detox use a cup of tea mixed with a tablespoon of apple cider vinegar.