Benjamin Moore Natura Waterborne Interior Paint: an Environmentally Friendly Paint with Style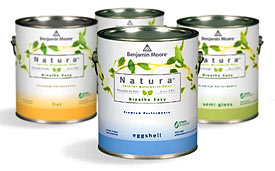 While some people might like that new paint smell it turns out that smell, or the chemicals that cause that smell are pretty harmful. Volatile organic compounds or VOC's are basically chemical compounds that are small enough to vaporize or become airborne. The VOC's in paints, air fresheners and household cleaning products build up in a home and can cause allergies, asthma, headaches, damage to liver, kidney, and central nervous system, or even cause leukemia. It is often called the sick building syndrome.
It is pretty frightening to find out just how many sources of VOC's there are in a home so when I read about Benjamin Moore's Natura Zero-VOC paint I had to check it out.
From what I've read it looks to be a very high quality low VOC paint that has gone through rigorous testing with regard to performance and more importantly environmental and health friendliness.
Natura paint qualifies as a zero-VOC paint, it even has lower VOC levels than other national zero-VOC paints as tested by California's Collaborative for High Performance Schools (CHPS). Which if you are astute sends up a "hey I thought they said it was zero-VOC!" red flag, so basically the zero-VOC label is a bit of a misnomer - it does have significantly less VOC's than most other "zero-VOC" paints and when compared to regular paints is practically drinkable. (I really wouldn't recommend that though)
Benjamin Moore created a new Green Promise designation to assure that the paints are environmentally friendly and meet or exceed the high standards of performance and eco-friendliness set by major environmental organizations such as LEED, MPI Green, Green Guard, CHPS, and Green Seal so as far as the major Green watchdogs go this paint is as good as you can get.
Natura paint comes in several finishes as well as a zero-VOC primer.
Eggshell, also called satin, eggshell paint has a slight sheen and is easy to scub and clean, however it has a reduced ability to hide uneven surfaces.
Flat, or matte is non-reflective and absorbs light. It hides surface imperfections well but doesn't hold up to scrubbing.
Semi-Gloss, is reflective, durable and easy to clean however it highlights surface imperfections.
For a great guide to painting with eco-friendly paints check out Painting Green: Color with Care by Timothy Klein. He gives an in-depth step by step approach to painting from a green perspective. Lots of tips and tricks for getting that professionally painted look in a more affordable do-it-yourself way. And best of all he highlights every way to make the painting process more eco-friendly as well as health friendly.