Have you heard about the Moshi Moshi handset? And did you know that cell phones emit dangerous amounts of radiation? According to an article from the Environmental Working Group studies find significantly higher risks for brain and salivary gland tumors among people who have used cell phones for 10 years or longer. One of the key benefits you'll enjoy from the Moshi Moshi handset is the elimination of up to 99% of the radiation absorbed compared to the direct use of mobile phones.
The Moshi Moshi Handset while at first glance looks like a quirky blast to the past you might pick up on a lark just to get a laugh from friends may actually be a lifesaving device. The debate about long term cell phone radiation effects has been going on for quite some time. Whether or not you believe you need to be worried about radiation damage from your cell phone is a debate for another time, I for one would rather not take the chance.
The contradiction between the seriousness of radiation and the playful retro look of the Moshi Moshi handset is a bit ironic, or perhaps a deliberate marketing attempt to get your attention about a serious issue with cell phone technology in a non threatening way. Regardless the Moshi Moshi retro handset is much more than a quirky retro gift to get attention.
Moshi Moshi Handset: Fashion Fad or Life Saving Gadget
Have you seen the photo of Orlando Bloom strutting around town with his Moshi Moshi handset? When I saw that photo I chalked the Moshi Moshi up to another celebrity endorsed earth friendly fad - I mean who wants to wear an old fashioned phone around their neck like a throw back to the full sized clock jewelry that was briefly popular in the '80's - well besides Orlando Bloom of course.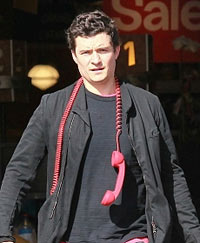 After doing a bit more research on this crazy new gadget I actually discovered it is being highly rated for the sound quality, functionality, and even to my chagrin overwhelming adoption of its retro looks. Native Union, the makers of the retro MoshiMoshi handset suggests it "combines high style with high functionality…The chic design combines classic style with modern elegance". Honestly I snorted so loudly at that I almost blew my socks through my nose. Since when is an old fashioned corded phone high style or chic?
You've got to hand it to them for their marketing prowess, but it turns out the functionality of the Moshi Moshi Handset is actually getting some much deserved attention.
Here are the overwhelming comments in favor of the Moshi Moshi Handset
Can be cradled comfortably between shoulder and chin (remember when you used to be able to do that with your phone?
Doesn't get hot like cellphones do. If you use your cell phone a lot this is a biggie
Sound quality is better than other wired (and wireless) headsets or phones
Looks and feels good in your hand - the feel is not slippery like hard plastic phones of old
Customer support is excellent - if you need and adapter for you particular device Native Union is quick to send one out
And of course one of the crucial benefits to the Moshi Moshi Handset is that it is up to 99% free of radiation compared to direct use of your cell phone. Granted this isn't because of some magic radiation blocking technology, but simply that you aren't putting your radiation emitting cell phone right to your head. Give Native Union more points for effective marketing.
If you want to give the Moshi Moshi Handset a try check out these fun retro styles for sale on eBay.
Moshi Moshi Retro Handset Features
Compatible with all 3.5mm jack mobile phones and computers, including iPhone, BlackBerry, iPad and latest MacBooks
Luxurious soft-touch finish for ultimate comfort and feel
Noise-reducing technology for a crisp and polished sound
One touch button for convenient pick-up/hang-up directly from the handset (not all mobile phone support function)
Eliminates up to 99 percentage of the radiation absorbed compared to a direct use of mobile phones
What is your take on the Moshi Moshi Handset, is it just the latest fad or will it take the world by storm?