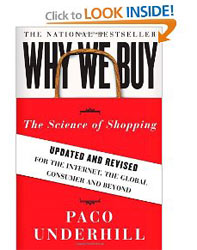 So why do we buy? Imagine this: you've just entered your favorite store. The aisles are wide so you don't feel rushed, the merchandise is highly visible and comfortable to reach even with a bad back, and the words practically jump out at you, so easy to read! So pleased are you with the layout of the store, the inviting atmosphere, the signage, music, and lighting, that you decide to keep shopping, even though you have already found what you came for.
You enter a sort of shoppers' reverie. And the checkout line? Smooth like butter, and what's that overhead? A banner displaying the new merchandise that will be arriving next week―you'll have to remember that. And then a manager comes out and with a friendly smile asks if you were able to find everything you were looking for and tells you a funny little story. With an appreciative laugh, you reach out for one last impulse purchase. When it's your turn to pay, you're surprised at first to have spent so much-what got into you? No matter, you hand over your credit card, and are promptly offered help out with your bags.
Do you leave feeling like a deal hound, proud of your shopper savvy, already planning your next visit…or do you feel a little manipulated, spent, and suddenly uncertain that maybe you didn't need all that after all, and now you're going to have to go home and put it all away…if you can find the room?
What Message Should We Take Away from Why We Buy?
While Why We Buy: The Science of Shopping contains some practical advice about aging eyesight and how to make it easier for businesses to cater to the whimsies of particular demographics, it hints at, but does not adequately explain the psychological forces at work on a person. Nor does Why we Buy examine the roots behind our evolutionary drive to hunt, gather, and be on the lookout for opportunistic encounters. Perhaps a follow-up could to be written from the shoppers' point of view:
Should We Buy?
We are privileged to live in a time in which humans are at the top-of-the food chain, but as our numbers swell, we have a shrinking base of wildlife and other natural resources to support us. Imagine what we might learn if our consumer impacts were measured with the same care and precision that has been used to observe shopper behavior for the benefit of the marketer?
For me, the striking but unintended message of this book was how competitive and sly distributors of resources needed to be for their own financial bottom line. This seems to force businesses to compete in a race to the bottom - obtaining resources for the lowest price, while paying the least for labor and externalizing as many real costs, such as environmental impacts, as possible, all while measuring profits in the margins of clever marketing and store appeal. Blogs like Earth Friendly Goodies have helped me sift through the hype while educating and informing me about healthier products. While I think Why We Buy can be a good preliminary glimpse into the world of buying, it is by no means the final word.
If you'd like to discover some of the factors that determine why we buy, try out this interesting read below.