The benefits of garlic have been known for thousands of years. Garlic has many potential medicinal uses in modern times as well. Garlic has antibacterial properties so it can help combat infections. It can be useful when you are losing your voice, and it can help clear a cough. Some in vitro studies even suggest anti-tumor effects may be present. Allicin, which gives garlic it's characteristic burning sensation when the bulbs are crushed and exposed to air, is purported to kill strep throat germs, hastening recovery.
However, because garlic is real medicine with real antibiotic properties, just as when you go to the doctor for a prescription, you may not want to stop taking your garlic too soon. 7-10 days of continuous use may be required depending on your condition, status, and doctor's advice. Be aware, however, that if your condition is serious, according to Wright State University, garlic is a much less potent antibiotic than penicillin. This may be a good thing or a bad thing depending on the severity of your condition. The University of Maryland Medical Center recommends 2-4 cloves of garlic per day for antibiotic purposes or 600-1200 mg of aged garlic extract as a garlic supplement.
Do I have to eat the cloves raw to get the benefits of garlic?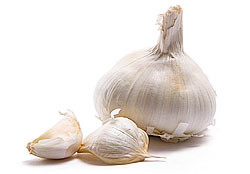 When I first ate a clove of garlic raw, the intense burning sensation, which is a defense mechanism to protect the plant from predators when cell walls are broken, irritated my throat so severely I went into an uncontrollable coughing fit. However, because cooking destroys the allicin, I'd say raw garlic is still best. You can dilute the stinging/burning sensation by juicing or crushing a few cloves of garlic and adding it to a mixture of tomatoes, lemon and whatever else sounds good. I added some cream cheese and spread this mixture onto my bagel. Avocado would also be good, as well as a little sea salt and cayenne pepper (which can help soothe a sore throat and has many many health benefits).
Garlic mixed with honey also serves as an antibacterial cough and sore throat syrup. People crush a few cloves (3 or 4) into a paste mixed with about a tablespoon of honey and take a little at a time throughout the day. Throw in some cayenne pepper and you have one powerful (albeit strong tasting) natural remedy.
Taking Garlic Capsules on an Empty Stomach?
Garlic has a very strong odor and taste so if you don't particularly want to smell like garlic all day you can get the benefits of garlic in pill form. However garlic, particularly garlic capsules, should not be taken on an empty stomach. The allicin may cause painful symptoms of burning similar to an ulcer.
Sure the Benefits of Garlic Sound Good But How Do I Get Rid of Garlic Odor?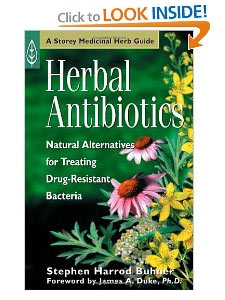 The best way to reduce the odor of garlic may come from the simple mixture of fat and water found in milk. When taken at the same time-mixing mouthfuls of milk with mouthfuls of garlic, this may be your most effective weapon against odor. The release of allyl methyl sulfide, or AMS, takes hours to be released into the bloodstream and the smell can be sweated out through skin pores. You may also want to try speeding along the odor removing process by sweating it out using a sauna. Basil is also worth a try.
To learn more about natural antibiotics, I highly recommend: Herbal Antibiotics: Natural Alternatives for Treating Drug-Resistant Bacteria
by Stephen Buhner. And if you want to take advantage of the benefits of garlic in an easy to take garlic supplement check out the marketplace for our recommended no odor garlic supplements for sale.
Sources:
http://en.wikipedia.org/wiki/Garlic
http://www.naturalnews.com/029149_antibiotics_garlic.html
http://voices.yahoo.com/garlic-as-antibiotic-four-mistakes-avoid-3714732.html
http://www.garlic-central.com/antibiotic.html
How to Use Garlic as an Antibiotic | eHow.com
http://www.livestrong.com/article/489317-how-much-garlic-equals-an-antibiotic/
http://blessedmommy.hubpages.com/hub/Garlic--The-Natural-Antibiotic
http://www.thegeminigeek.com/how-to-remove-garlic-smell/