After scoring a great deal on some raw wildflower honey, I decided it was time to try my hand at making Medicinal Honey by combining it with fresh ginger root and rosehips. Although I have adapted this recipe to suit my preferences, I was originally inspired after reading about how to make medicinal honey in Making It: Radical Home Ec for a Post-Consumer World
by Kelly Coyne & Erik Knutzen. Making Medicinal Ginger Rosehips Honey is pretty simple and my recipe only requires 3 ingredients:
Medicinal Honey Ingredients:
*It will also be helpful to have a fine mesh strainer (I prefer stainless steel) to strain the rosehips.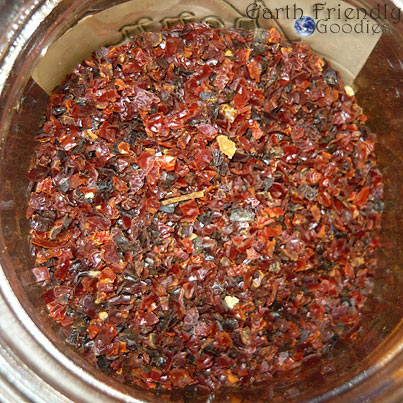 You are free to alter the proportions, but I took about 1/3 cup of rosehips and covered with water in a mason jar which I let sit at room temperature for about an hour and shook vigorously a couple times.
Some medicinal honey recipes call for simmering the rosehips for 20 minutes, however, because rosehips are such a great source of vitamin C, I didn't want to destroy the health benefits of rosehips with heat, so I just let it soak a longer period of time at room temperature. Then I gently strained out the rosehips, getting as much of the syrupy rosehip concentrate as I could, which amounted to about 1/4th cup worth. The rosehip concentrate has pleasant berry-apple-rose flavor which is quite pleasant sweetened with honey.
Next, I pealed a medium sized ginger root and cut it into thin slices.
In a pint size mason jar, I combined my raw wildflower honey, added the ginger root slices, and stirred in the rosehip concentrate blending it all together with a fork.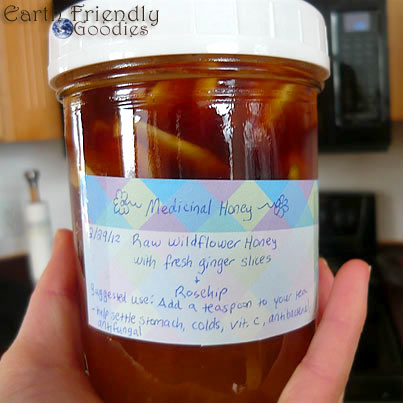 That's it! Easy as pie! I put a lid on the jar, made a quick label with the date, list of ingredients, and a couple of health benefits of medicinal honey, and then put it in the fridge. It should keep for a couple months or longer but is unlikely to last that long.
A spoonful at a time either by itself or mixed into tea and other beverages is a healthful tasty way to enjoy your medicinal honey.
Healing Properties of Medicinal Honey
The health benefits of ginger are pretty awesome. It is an excellent remedy for nausea and can aid in the digestion of proteins and fats. A warm and stimulating circulatory tonic, ginger will help prevent clotting, and is beneficial for the heart. However, ginger should be avoided if you have a peptic ulcer.
Rosehips are a great source of vitamin C making them an excellent immune system enhancer, good for the respiratory system and connective tissues.
One warning about rosehips though : the little hairs on the rosehip seeds are an itchy irritant which you do not want to swallow. This is one of the reasons I strained out the rosehips before adding the rosehip concentrate to the honey. It is better to be safe than sorry!