Portable Far Infrared Sauna: A Whole Body Spa Vacation
Are you ready to sweat out some toxins and get in shape? Or maybe you're like me and you just crave a little effortless warmth in the winter. I have been so happy with my new Far infrared sauna. I've been researching various types of portable saunas for many years now. For me, part of the challenge was affordability; I wanted an affordable luxury, less than $400 (though the one I got retails for over $900, you can find a really good deal on eBay). The other key concern for me was space because when you live in an apartment, every inch matters. This one folds up so it stores easily after each use and is lightweight (less than 15 pounds for the whole unit).
There are so many great things about this Far infrared sauna, I'm just going to list some of the infrared portable sauna uses and the benefits of infrared saunas that I've noticed.
Far Infrared Sauna Health Benefits and Uses: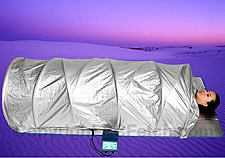 FIR Far Infrared Sauna Dome Wrap
(Check out the New Improved
padded dome style or go with
the classic wrap style above)
Far Infrared Sauna Benefits:
1) The Far Infrared sauna helps your body detox
2) Heats your body, not the air (so when you live in a small apartment, it doesn't make your apartment feel like a sauna)
3) You lie down in it. This equals total relaxation. Sitting in a sauna is nice, but after being able to lie down in one I would never want to go back to sitting again. It's good to let your whole body relax once in a while.
4) Sweat like you've never sweat before. I'm one of those people who hardly ever sweats (I'm always cold). I've noticed that with regular use of this sauna, my circulation has improved and my hands are even warmer.
5) Improved quality of sleep. I've been having trouble sleeping through the night for years. I've been using the sauna for about two weeks now and have already noticed improvements in the quality of my sleep. I have been waking up feeling well rested and much earlier than usual on my days off when I use the sauna the night before.
6) I've read other reviews that say infrared helps get rid of cellulite, helps with pain management, improve skin condition, metabolism, and more.
7) Even physically disabled people can enjoy some of the healthful benefits of "exercise" –burns over 600 calories in 30 minutes!
8 ) Can accommodate a person up to 6'5" tall.
9) Easy to set up. No tools required.
10) Your body will thank you.
Far Infrared Sauna Tips From My Experience
* Far infrared sauna Tip #1: I lie on top of a cotton sheet to make clean up simple (You will sweat like crazy using this thing and the sweat is like 7 times more toxic than regular sweat, so you'll want to take a shower within 20 minutes as well.)
* Portable infrared sauna Tip #2: Try listening to relaxing music, dim the lights, and drift off to your happy place. It's like a mini vacation that you'll want to return to again and again.
FIR Far Infrared Sauna Dome Wrap Technical Details
• Burns over 600 Calories in 30 Minutes!
• Free Heating Mat Included + Pillow
• Powerful 1,000w Ceramic Heater
• Large Size - Accommodates anyone up to 6.5' Feet Tall
• Easy Storage - Folds up into a portable size for each storage
Product Description
Healing Benefits: The use of a portable infrared sauna is very important for the detoxification and cleansing of your body. It can rid your body of many toxins through your sweat glands. It will also improve your metabolism, and burn calories! Many people have noticed it helps deal with stress, as it allows your body and muscles to fully relax. It also improves blood circulation, and gets your heart rate up, which is very healthy. A sauna can also have a huge benefit for your skin. A good sweat is excellent for healthy skin. Helps with: Relief from headaches Weight loss - Burns over 600 calories in 30 minutes or less! Increasing body metabolism, Elimination of toxins, Blood circulation, Pain management, Immune system deficiencies, Detoxification, Respiratory ailments, Skin rejuvenation, Can help improve sleep, Lower stress and Many more benefits not even discovered yet!
If you've used a Far Infrared Sauna, have you seen any health benefits or had any luck with weight loss?
Take a look at these portable infrared saunas below and have your own personal spa vacation... in your own home.