My girls absolutely love kefir, a delightfully delicious cultured milk similar to yogurt. (and I admit I'm a little addicted as well) Someday we'd even like to make our own if we can find a good source of milk kefir grains, but until we do we like to try various store bought kefir when we find it.
We recently found a good one at a local co-op made by Nancy's - Organic Blackberry Kefir - I'm salivating just thinking about it. Nancy's makes four varieties of Organic kefir in 8oz and 32 oz sizes - plain, raspberry, blackberry, and blueberry.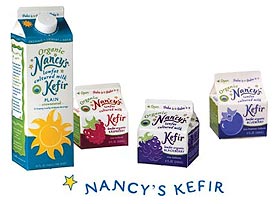 Not only is their kefir loaded with tons (well, billions actually) of live probiotic cultures including L. Acidophilus, B Bifidum, L. Rhamnosus, and L. Casei (which besides being fun tongue twisters are actually great for digestive health and the immune system) Nancy's organic kefir uses all organic milk, fruit and inulin (a prebiotic - probiotics best friend that enhances nutrient absorption).
In fact the organic milk comes from grass fed cows which provides a massively huge amount of good nutrients not found in "regular" milk.
The natural health geek in me has to mention a couple of points: one Nancy's Organic Kefir uses Agave Nectar which while it is a low glycemic sweetener, has very high levels of Fructose which many even geekier natural health guru's believe should be avoided like the plague.
Also in order for it to count as a low-fat drink it contains organic nonfat dry milk (in addition to actual organic milk) - which kinda defeats the point of all those good for you fats found in grass fed milk. There is a widespread misconception that low-fat or non-fat milk is good for you - but that is a whole post in and of itself.
That being said Nancy's Organic Kefir is still one of the best for you kefirs I have found in stores and I'll certainly buy it again - now if they made a full fat grass fed naturally sweetened variety I'd have to say it would be the perfect kefir.
This Post on Nancy's Organic Kefir Shared on Fight Back Friday