We stopped by Byerly's the other day because we heard they sold a dandy of a probiotic drink we recently discovered (Probiotic Health Daily) and right next to it was a selection of Kefir drinks. I had heard a little bit about Kefir recently so I decided to give the blueberry Kefir a try.
If you aren't familiar with Kefir it is a fascinating ancient yogurt-like drink that has numerous health benefits. First off it is a probiotic (good bacteria that help strengthen your body and immune system) so it is one of the best remedies for digestive troubles, it is also very high in lactic acid so is recommended as a protection against cancer, and Kefir has a beneficial effect on the intestinal flora so if you suffer from Candida overgrowth Kefir will be your best friend. Another interesting discovery for garlic lovers - Kefir and probiotics help neutralize bad bacteria and control bad breath!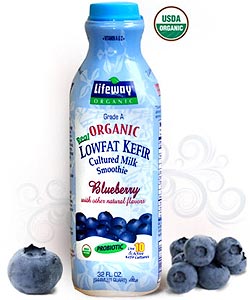 I'm just learning about Kefir and probiotics myself, it is certainly a fascinating topic - and I'm learning tasty to explore as well. Take for example the blueberry Kefir we recently tried. It is quite yummy all on its own, (or throw a dash in your cereal in the morning), but once I tried my first glass my creative kitchen instincts kicked in and I thought hmm, what would this taste like in pancakes?
I usually take the easy route with pancakes and use a store bought mix and then spruce it up a bit, but if you have a favorite homemade recipe you can use the basics from that recipe and try my additions.
I'll list a homemade recipe here that I sometimes use as a base when I get a bit more motivated in the kitchen but feel free to use a box mix and substitute as many of the ingredients as you can with the healthy organic and natural ones I've listed.
First off here's what you'll need (the original recipe says it makes 9 4in. pancakes but it never does right? So adjust amount of flour, thinness of batter etc.. for more or less pancakes):
1 cup organic whole wheat flour
1 organic grass fed egg
3/4 cup organic milk
1 tablespoon brown sugar or organic raw sugar
2 tablespoons coconut oil
3 teaspoons baking powder
1/4 teaspoon salt
My Additions:
1/4 cup flax seed
1/4 cup blueberry Kefir
1 teaspoon almond extract
Fresh organic blueberries
Whip cream (gotta have whip cream on pancakes it's a must)
Add all the ingredients (except the whip cream of course - you can save some blueberries for a topping as well) beat it and cook it - and whalah you have some delicious blueberry Kefir pancakes - a perfect breakfast, lunch or dinner.
A note with the blueberry Kefir if you add some to the batter it becomes pasteurized again when it cooks, therefore killing all the beneficial yeast and bacteria which was so lovingly cultured to life. It does add a delicious scent while cooking and a delightful flavor to the pancakes but it will no longer have the healing properties of Kefir.
It may be a sin among Kefir artisans but I sure do love the smell and taste with a little bit in the batter (shhh don't tell.) You may just want to save the Kefir and use it as a topping once the pancakes are cooked, or be a bit daring and do both...
The blueberry Kefir I tried was made by Lifeway (they have a fun musical Kefir bar and Kerfirability profile feature so if you are in the mood for a little fun loving psychoanalysis check them out) - I also discovered there are some ebay sellers selling coupons to Lifeway products so if you are interested in trying Kefir why not save a little money as well.
Do you cook with Kefir? Please share your quick Kefir recipe suggestions, we'd love to try them all.