Have you been looking for a kids toothpaste that is so good your children will WANT to brush their teeth? Now how about one that is loaded with natural effective ingredients instead of all the artificial junk found in most kids toothpaste?
We tried out a really effective herbal all natural toothpaste made by Vita-Myr awhile back and we loved it - the only problem was one of the main ingredients was clove. Clove is a very effective antibacterial and anti-inflammatory which is great for gum health, however it does have a strong taste - our 4 year old thought it was too "spicy".
Is there a Natural Kids Toothpaste that kids will like?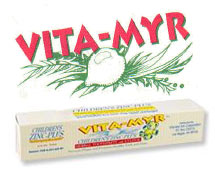 Alas, back to the gunky un-natural kids toothpaste.... but not long after we wrote up a review for the Vita-Myr Zinc Plus toothpaste - we received a surprise from the fine folks at Vita-Myr - a couple tubes of their Natural Orange Flavor Children's Xylitol toothpaste. It has the same beneficial ingredients as the Zinc Plus toothpaste along with Xylitol which is a proven powerful cavity fighter and antioxidant - it even has clove. But with the nice subtle orange flavor you'd never know - and your kids won't either.
Teeth brushing success a Natural Kids Toothpaste that tastes good
Proof in point... when I brushed our 18 month old's teeth with the Vita-Myr Children's Xylitol toothpaste the first word out of her mouth was More! (and she wasn't a big talker at the time so it must have been good)
She now loves brushing her teeth - and I love knowing that Vita-Myr natural kids toothpaste contains no harmful chemicals, fluoride, artificial sweeteners or colors - not to mention this toothpaste is so effective at removing teeth scum it makes them squeak.
If you've discovered a great effective natural kids toothpaste leave a comment below - we are always looking for new natural health products to try.