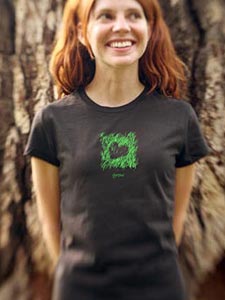 It's in the air - no not smog I'm talking about the scent of love and the joy of getting free stuff - no matter your views on the cherubic little angel with the sharp pointy arrows - everybody loves free giveaways right? And Swell Foop is in the mood for love (and love inspired giving).
Swell Foop has created two new 100% organic Valentine's Day themed t-shirt designs celebrating not only the little chubby angel and his ministrations of huggy kissy's but a love for the environment and sustainable products.
You see Swell Foop is a two sister tag team who believe in the good things in life - like the earth we live on and the furry, fuzzy, scaly, froggy, buggy, beautiful critters that scurry in the woods and oceans at night (ok so ocean dwelling creatures don't do much scurrying but it sounded good). Their current designs feature animals that are threatened by a variety of conditions, including global warming, human encroachment into animal's habitat, and hunting.
And thanks to their generosity and the fabulously fantastic focus organic blog you and I have a chance to bring home a soft cuddly 100% organic t-shirt with a cool new design for Free. So swing on over to Focus Organic and give Swell Foop some fooping good attention and who knows you might just have something else to celebrate this Valentine's Day.