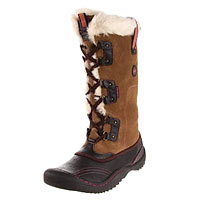 Is it wrong to want to wear your winter boots around the house like slippers? Well, that's what I did for the first day when I got my new Jambu Nomad boots. I wasn't sure when the right time to wear boots outdoors was. Normally at this time of year we have plenty of snow and everyone would have to break out the winter boots, but since we've had a long warm Fall with no snow there hasn't been a need for winter boots. Does there need to be snow on the ground in order to wear boots?
Nah, these Jambu Nomad boots are so fashionable you can wear them as Fall footwear, as well as cozy enough for those blustery Winter days soon to come. However if you like to wear a nice warm wool sock with your boots you may want to go up a half to full size as the Jambu Nomad boots fit a little snug with winter socks.
Jambu Nomad Boots - More Like a Comfortable Shoe than Clunky Boot
Perhaps since the Jambu Nomad fits more like a shoe or high boot like the Jambu Colorado Vegan it doesn't need breaking in like other winter boots, plus they are more comfortable for longer walks - the memory foam footbed is just heavenly on long walks. I was able to wear the Jambu Nomad boots for an all day trip to the Mall of America without any foot soreness. I don't know of many winter boots that can do the same.
These are by far my favorite boots as far as comfort and looks - I love the faux fur lining, the detailed stitching and laces and of course the front recycled rubber toe bumpers so I won't ruin my pretty Jambu Nomad's from salty sidewalks or slushy snow. (when the snow finally arrives). Oh, by the way the Jambu Nomad is supposed to be waterproof too so even when winter hits full swing these fashionable boots should be able to handle it. I'll have to let you know more once I've tested them out in colder weather and snowy conditions.
Two Stylish Styles for the Jambu Nomad Waterproof Boots
There are two options for the Jambu Nomad boots, a Black/Gray Waterproof Leather and a Brown/Saddle Waterproof Leather. Both have a soft suede outer and faux fur fringe. They are about 11 inches high and weigh only about a pound - that's another thing I love about these boots - they are super light compared to your usual winter boot!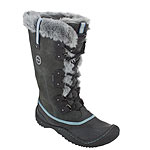 If you are looking for gift ideas for the fam put these boots on your list you'll love 'em! Look for upcoming sales on these Jambu Nomad boots online as the shopping season heats up.
Again I'll let you know how these super cute, furry cuddly, soft, cozy, plush boots (is it a bad idea to wear boots like slippers?) do in the snow when I find out.
No items matching the keyword phrase "jambu nomad" were found. This could be due to the keyword phrase used, or could mean your server is unable to communicate with Ebays RSS2 Server.

If you've worn Jambu Nomad boots, or any other Jambu boots for that matter, in the Winter please leave a comment below I'd love to hear how they've held up for you.