If you have children I'm sure you wish you could find unbreakable dishes for the kids to use. Even us big kids could use some dishes that don't break when they slide out of your slippery post dish washing fingers as you play hot potato for what seems like an eternity before it falls to the ground and shatters.
Sure there are those ugly plastic dishes (or granted even some cute plastic ones) but every time I grab a plate or cup for our kids I really do not like putting hot food on those plastic dishes. With all the warnings about BPA leaching into our food (especially when microwaved) I really don't want that stuff anywhere near my kids so non plastic BPA free dishes for kids would be ideal.
I usually gamble and give them our quite breakable good dishes... and face the wrath of Brandi when she scolds me for letting the kids use her artsy dishes. (so far I have been lucky but if ever one should break I'll be sleeping on the couch for a month)
But where can I find BPA Free unbreakable dishes for kids?
Just today she handed me a torn out page of a Parents magazine in which they had a little blurb about Kidishes - BPA free dishes for kids, drinking glasses, bowls and plates that are made out of Duralex tempered glass.
I know you are thinking give glass dishes to my kids - yeah right! The thing is these Tempered glass dishes are supposed to be 4 to 5 times stronger than standard glass because they are made through extreme heating and rapid cooling - and because they are glass dishes they are naturally BPA free!
It used to be you could find these kid friendly 100% recyclable, dishwasher safe, microwaveable, BPA free Duralex unbreakable dishes for kids (whew that was a mouthful) for sale at ZoeB Organic, but it seems they no longer sell the Kidishes. They have moved on to sell Natursutten all natural rubber pacifiers and teether toys.
Current Buying Options
Alas, what are we to do? The good news is that the Duralex brand (actually the original French inventor of the tempered glass dishes) still sells them on good 'ol Amazon.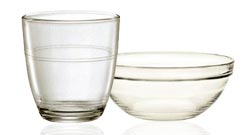 There are a few different styles to choose from. The Duralex Gigogne are rounded glass tumblers very similar to the ZoeB version. For similarly styled glass bowls and plates try the Duralex Lys. As with all the tempered glass dishes these are good for both hot and cold, are stackable, resistant to dropping and chipping and of course microwave and dishwasher safe.
Another option if you want something a bit more classic are the Duralex Picardie style. These glasses are more reminiscent of your old 50's malt shop style tumblers. They come in several sizes and you can find bowls in a matching style as well.
One last option is the Duralex Chope which is a taller straight edge glass tumbler that tapers from a smaller base to a wider opening. It seems to me this version would be prone to slipping out of young fingers but if you like the style go for it - they are still pretty durable.
Since my theme here was finding unbreakable dishes I do have to say no glass that I have come across is truly impervious to a crashing finale but tempered glass is a heck of a lot more durable than most dishes. If you have kids like we all do that get the "oopsies" now and then they sure are worth a try.
You can also find a good deal on tempered glass dishes for sale on eBay with a few Kidishes on there from time to time as well.
Look for Duralex Picardie for your glasses and Duralex Lys for some nice convenient stackable glass bowls.
If you are looking for another BPA free non plastic option for school lunch containers check out our post on LunchBots - cool high quality lunch containers made from stainless steel.