I've been looking for eco-friendly lunch containers to replace all those plastic bags for kids lunches and I've recently discovered Lunchbots. Lunchbots are stainless steel lunch containers with bright and cheery colorful lids that really spruce up lunchtime, plus no more toxic plastic bags that get guncked up with peanut butter and jelly when you try to re-use them!
Lunchbots are stylish stainless steel lunch containers
If you don't like the idea of throwing away plastic bags by the dozen or washing them out and having them decorate your kitchen with their plastic malfeasance you might like Lunchbots as well.
Lunchbots Pros and Cons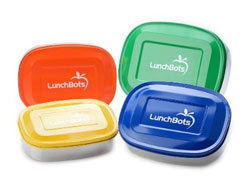 As long as you know what to expect with these Lunchbots stainless steel lunch containers I think they will make a nice addition to lunch time on the go either for yourself or for your kids. First off many are surprised by the size - most people expect them to be bigger and are somewhat disappointed, but if you know before hand that they are about the size of your hand (the Pico is 5 1/2 x 4 inches, the Uno and Duo are 6 1/2 x 4 1/2 inches or the Eco is 7 x 5 1/2 inches) you'll know you won't be able to fit an entire lunch in one Lunchbot. They are great for a sandwich in one and some snacks or fruits and vegetables in another. Two will fit in a kids lunch box with room for a thermos or water bottle.
Another con that has been mentioned which I believe has been resolved is that although they are said to be dishwasher safe the colorful lids have been known to peel. But, please note that the makers of Lunchbots have acknowledged that there was a batch of lids that had some defects and they will replace the bad lids with new ones free of charge - On all accounts their customer service is said to be fantastic.
There are conflicting reports on how easy it is to open Lunchbots lids for young children, some say they open easily and others say their 4-6 year olds have difficulty opening them. We've found they are much easier to open than similar bento box style containers, but it may vary from batch to batch.
One of the biggest pros in my mind is that Lunchbots are BPA free dishes since they are made from food safe stainless steel. Some mention you can't use these in the microwave as you could plastic but if you are concerned with toxic BPA in plastics you wouldn't want to microwave those either.
Lunchbots Pros:
Colorful non-VOC stainless-steel
eco-friendly option to plastic bags
No BPA as found in plastic containers
Fits nicely in a lunch box
Three sizes that fit into each other for storage
(the Pico fits inside the Uno which fits inside the Eco)
Did I mention no more plastic bags!!!
Lunchbots Cons:
Not as big as expected
Not water tight (not good for liquid-like foods ie yogurt)
Not easy to open for some young children
Overall I love these Lunchbots, they are colorful, easy to use and fun for the kids to have a "picnic at school" everyday. And most of all Lunchbots will save you a ton on plastic bags.
If you'd like to give Lunchbots a try here are some for sale on eBay