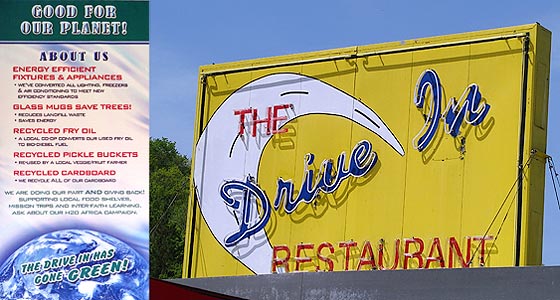 Green beer step aside here comes Green Root Beer!
Now I know you've heard of green beer, even those without a lick of Irish blood may enjoy a pint or two on St. Patrick's day, but yesterday we had the joyous surprise of finding green root beer.  Not in the literal sense but just another fine example of green business practices in small town America.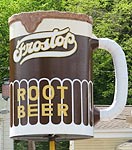 We had plans to enjoy a nice sunny day of hiking in Taylor's Falls, MN but before tackling the rocks and crags we decided to charge up on some grub... to our delight we spotted a little old fashioned root beer drive-in. And to top it off what do we see but a bright colorful sign advertising the fact that "the Drive In has gone green."
On top of that they are giving back to the community through local food shelves and mission trips - Now that is my definition of Earth Friendly business - plus darn good eco-friendly old fashioned frosty mug root beer!