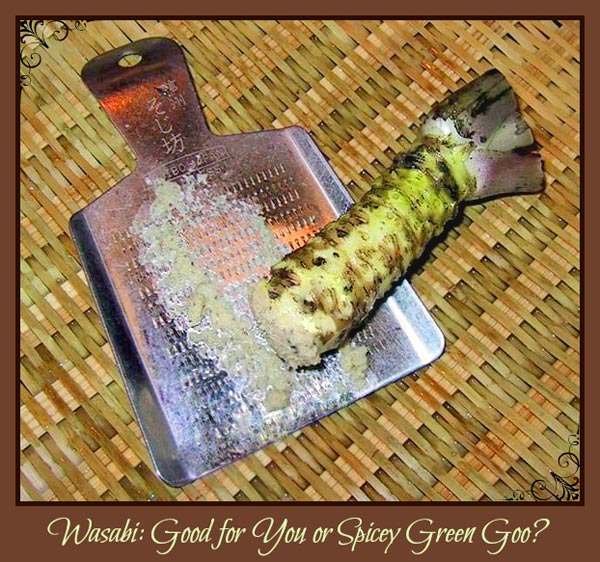 Wasabi sauce-that strange green spicy pile of goo that you always get when you go out for sushi and usually throw away (at least I usually did-since less than a grain of salt's worth of the stuff makes my head feel like it's about to come apart at the seams)—well, I had a bad cold which I think turned into an upper respiratory infection and had a real hankering for some sushi one night—and decided maybe some of that repulsive green stuff would be good for relieving congestion.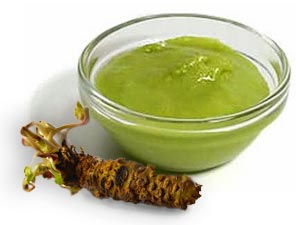 I did feel an immediate sensation of crispness as my nose seemed to clear and I tried not to cry, though when I looked up the reason why it seemed to work as a decongestant, I was surprised to learn wasabi actually makes the nasal passages more narrow-which might explain why later on my nose was even stuffier.
However, far from trying to discredit the health benefits of wasabi, I was surprised to learn it had so many other health benefits besides as an antidote to prevent food poisoning (which is one reason that it is served with sushi and raw fish). Wasabi has anti-bacterial properties and is thought to reduce inflammation, prevent tumors, and even kill cavity causing bacteria! In addition, it may help prevent cancer and heart attacks, and help people suffering from arthritis.
But before you run out to your nearest sushi bar, know that real wasabi (or Japanese horseradish) is very rare in the U.S. and most restaurants serve a mixture of Western horseradish mixed with mustard and green food coloring. Before you skip the "fake wasabi," altogether though, it turns out Western horseradish has many of the same health benefits, including antibacterial and anti-inflammatory characteristics, plus it stimulates the immune system, heats up the body, and has aphrodisiacal properties! Though we could probably do without the food coloring.
As I mentioned the true Wasabia japonica rhizome, (the rhizome is the Japanese horseradish root) is hard to find in the US so if you have a good source please share it with us in the comments below. And what do you think, is wasabi good for you?
If you do some searching eBay does have some natural (aka without the artificial food coloring) wasabi powders and sauces, here are results for wasabi and wasabi products for sale
. Also below is a company that seems to sell a quality wasabi powder.