Creative Coolness with the Haiku Grab Bag Line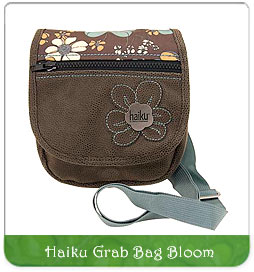 Haiku Says: Poetic function at its best. The Haiku Grab Bag is all you need for a quick getaway. Throw in a wallet, phone, passport, lipstick, keys -- and you're off! Wear it on your shoulder, slung on your hip, or take off the strap and throw it in your matching Haiku to-go bag.
He Says: Haiku has done it again with this small yet roomy grab bag Bloom. The design is subtle yet delicious with the Haiku logo wonderfully taking its place as the center of attention inside a lovely stitched flower. That cute subtle flower motif is repeated on the top flap as well as inside the bag. Be sure to take a close look at this bag at PlanetShoes.com with their super cool zoom-in feature to really get a sense of the wonderful detail in this bag. As I've said before Haiku bags are some of my favorite and this one ranks right up their with it's cute earthy ambiance.
She Says: The grab bag is a super popular style of bag these days and Haiku really gives character to a style you see all the time. This is a nice sized bag for traveling, sleek and not too bulky so if you need a bag to grab and go this is the style for you. Personally the grab bag is my favorite style of bag - small and stylish! Not only is this Haiku Grab Bag fashionable it is practical as well, it has plenty of pockets including a couple zippered pockets to keep your stuff nice and secure. This grab bag is a nice accompaniment to the larger To-Go bag from Haiku - check that out as well and get both.
Haiku Grab Bag Dimensions and Features
4 pockets - secure front zip pocket, exterior slip pocket, zip coin pocket & interior slip pocket
Large interior pocket for wallet, phone, etc.
Hidden magnetic closure
Dimensions -- 7" w x 7" h x 1.5" d

Check out the Haiku line and the Haiku Grab Bag at PlanetShoes.com peek at more pics and a cool zoom-in feature too!

Earth Friendly Tid Bit

: Haiku's Karma Neutral™ collection uses sustainable fabrics, on top of that Haiku also buys carbon credits to offset their foot print on the planet. Pretty cool huh?
Find several styles of the Haiku Grab Bag for Sale on eBay
This review of the Haiku Grab Bag is part of our He Said She Said review series, look for more eco-friendly bag reviews in the series.