I just received a beautiful bamboo cutting board as a gift and I've been looking into how to cure it or season it before use. Every where I look suggests using food grade mineral oil to first cure the bamboo cutting board and then re-apply once a month to maintain a good luster.
Now my dilemma is this: is mineral oil, even supposedly food grade mineral oil really safe?
Here is the definition of mineral oil found on Wikipedia:
"A mineral oil or liquid petroleum is a liquid by-product of the distillation of petroleum to produce gasoline and other petroleum based products from crude oil."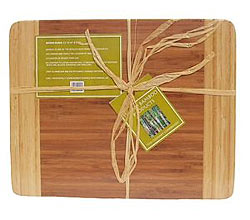 Now does that sound safe to consume to you?
Me either.
Is there a natural health alternative to mineral oil in curing a wood or bamboo cutting board?
I'd like to start a discussion on the use of mineral oil in curing wood cutting boards, so for any of you real food experts or natural health guru's what do you think? And what do you use to cure or maintain your wood cutting board?
Wondering Where to Buy Food Grade Mineral Oil See These Options Below
I'm still not entirely convinced food grade mineral oil is as food safe as it claims but the consensus is that it is the best option out there for protecting wood cutting boards. If you can't find food grade mineral oil at your local store eBay has many options available below.
Bestselling Wood cutting board oil and accessories