Do you have a pile of unused plastic utensils at home from various take out restaurants? Are you sick of the excess waste from all these pretty much worthless plastic utensils? To-Go Ware's founder, Stephanie Bernstein sure was and she had the inspiration to start To-Go Ware and the To-Go line of Bamboo utensils with the clever campaign Reduce Your Forkprint.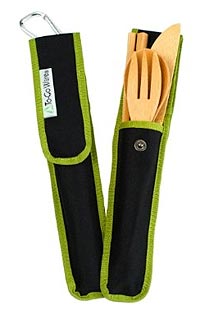 Well, we recently discovered these Bamboo To-Go Ware utensil sets
and fell in love. I love the look and feel of bamboo and knowing that I can easily bring these babies anywhere is great. They are also perfect for sending with the kids for school lunches as well.
Each set includes a fork, knife, spoon and chopsticks all snug as a bug in a rug in a nice durable utensil holder made from RPET, recycled PET plastic (often called RePEat) which is made from recycled plastic bottles.
These Bamboo utensils are heat and stain resistant and won't absorb flavors so you don't have to worry about chocolate pudding flavored pasta.
They are sealed with a natural, vegan, food-safe sealant that has been tested and contains NO heavy metals that could leach into food.
They are strong too, much stronger than those pesky plastic forks that always break and you end up trying to eat with a one or two tined fork by the end of the meal.
The RePEat utensil holders are available in a number of colors and styles so you can pick up a different one for each member of the family. We actually bought them as camping utensils but we have found there are so many more uses, and we can feel good about turning down plastic utensils where ever we go. Yes we are eco-geeky like that. As it turns out so is Oprah as the To-Go Ware was featured on Oprah's Earth Day show. (just a bit of eco-geek trivia for you)
Bamboo To-Go Ware utensil sets are for sale at a number of locations including Amazon (where you can often find them with free shipping), Whole Foods, REI and through the To-Go Ware web site itself.