Who knew, dandelion tea benefits our health in numerous ways. It's true, dandelions are high in many vitamins and minerals and have been consumed for thousands of years as a nutritious edible plant. So if you have been battling those pesky but pretty flowers year after year - just give in and get back by eating them instead of cursing them!
I recently discovered an article touting the benefits of dandelion tea, as well as cooking with the leaves and roots so I did a little digging (both in the back yard and online) to discover numerous dandelion tea benefits.
Dandelion and Dandelion Tea Benefits and Nutrition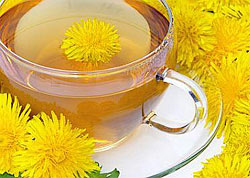 Dandelion leaves are 15% protein and just one cup of dandelion greens contains 2.1 g of protein, 112% of the daily recommendation of vitamin A, 32% vitamin C, and a whopping 535% vitamin K.
A cup of dandelion leaves also contain 218 mg of potassium, 103 mg of calcium, and 1.7 mg of iron. Throw in trace amounts of zinc, copper, selenium, magnesium, folic acid and a handful of B vitamins and you have one action packed punch of good for you health benefits when eating dandelions and drinking dandelion tea.
What Does Dandelion Root Tea Do For Your Body?
Dandelion root extract and dandelion tea have been discovered to cause apoptosis, or cell suicide in several different types of cancer cells without harming nearby healthy cells. Leukemia, prostate cancer cells, breast cancer cells and other drug-resistant melanoma cells have all been shown to be effected by dandelion root tea.
How to Make Dandelion Coffee
(It really does taste quite a bit like coffee)
1. Dig up dandelions with big roots
2. Cut roots into 1/4 inch pieces
3. Roast at 250 degrees F for 2 hours
3. Grind roasted roots in coffee grinder
4. Brew like coffee
Aside from these astonishing results there are many other dandelion tea benefits. Dandelions are potent liver and kidney purifiers. This helps the body rid itself of harmful wastes and toxins.
A natural diuretic this dandelion tea weight loss aide can gently stimulate your body to excrete more water from your system and promote bile production necessary for good digestion and nutrient absorption. More important than the resulting weight loss is the benefit of all the good for you vitamins and minerals and flushing out everyday toxins from the body.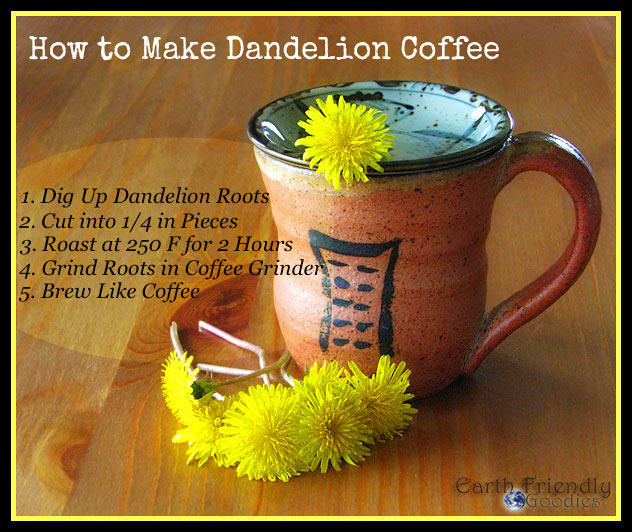 Dandelion Tea Benefits Your Skin, Heart, Liver & More!
1. Liver Cleanse: A dandelion tea detox cleanses and stimulates the liver promoting good digestion and removal of toxins. The vitamin-C and Luteolin in dandelion tea keeps the liver functioning well and protects it from age related stress. For the same reason it is good for gall bladder disorders as dandelion tea benefits the function of the gall bladder protecting it from harmful oxidants and infections.
2. Diabetes: Along with the liver cleanse dandelion tea benefits those with diabetes as it stimulates the production of insulin from the pancreas thus keeping the blood sugar levels low. Since dandelion acts as a diuretic it helps remove extra sugar from the blood stream and kidneys.
As an extra boost dandelion tea is slightly bitter which lowers blood sugar levels as well, as all bitter foods do. A note of caution if you have gallbladder or pancreas problems dandelion tea stimulates bile production and might cause severe problems should there be any obstructions so please check with your doctor before trying dandelion tea.
3. Bone Health: Dandelion is high in calcium which of course is good for bone growth, plus the anti-oxidants in dandelion protect the bones from free radicals and bone density loss.
4. Pregnancy: Dandelion tea is a fantastic drink for mothers to be. Not only is it high in much needed vitamins and minerals, but the diuretic properties can help with constipation. Chinese herbalists have used dandelion for centuries to help with sore breasts and as a method to increase lactation. Interesting to note roasted dandelion root is said to taste much like coffee so if you are avoiding caffeine while pregnant try a bit of roasted dandelion root tea!
5. Skin Care and Acne: Dandelion in various forms is great for natural skincare and as an acne treatment. The dandelion "milk" from the stems and leaves has germicidal, insecticidal and fungicidal properties so it can be used to treat itchy rashes like ringworm, eczema, bug bites and even directly on acne. Plus, since dandelion tea is a good detoxifier and diuretic it helps open the pores and cleanse acne causing toxins from the body before they clog the pores and develop into acne.
6. High Blood Pressure: Believe it or not urinating lowers blood pressure - in fact most high blood pressure medication relies on this to lower blood pressure. Dandelion tea benefits those with high blood pressure since it is a great diuretic. Dandelion tea is a good source of potassium which replaces sodium in the body and thus helps lower blood pressure. Also since dandelion is a good source of fiber it helps lower cholesterol which in turn helps lower high blood pressure.
7. Urinary Disorders: Many of the benefits of dandelion tea revolve around its ability to cleanse out the kidneys and urinary system. The diuretic properties of a good cup of dandelion tea benefits those with urinary disorders by eliminating toxins. Plus dandelion juice acts as a disinfectant to inhibit microbial growth in the urinary system to prevent the recurrence of urinary problems.
8. Jaundice: Another liver related condition dandelion tea will benefit is jaundice. Jaundice is caused when the liver produces too much bile, resulting in yellow tinted eyes and skin. Using dandelion tea as a treatment for jaundice will improve the health of the liver which helps regulate bile production.
Excess bile is also removed through the diuretic process of the dandelion tea. The triple whammy in jaundice fighting comes from the antioxidant, disinfectant and anti-viral nature of the vitamin-C and Luteolin in dandelion. Dandelion tea taken in conjunction with sugarcane juice is more effective as sugar needs to be replaced from the excess bile effects on the body.
9. Cancer Fighting: As mentioned above dandelion has been shown to have some pretty amazing effects on active cancer cells. Dandelion tea can also help prevent cancer in the first place because of the strong antioxidant presence of vitamin-C and Luteolin which reduce free radicals in the body. The over all detoxification properties of dandelion help prevent cells from damage as well.
10. Weight Loss Wonder: Dandelion tea weight loss treatments are effective in the removal of water weight because of the safe diuretic nature of dandelion tea. It may not be the weight loss wonder you are looking for but it will help cleanse the cells of excess water weight and give you much needed nutrients and detoxification that will increase overall health while you pursue a healthy weight loss and exercise program. So throw some dandelion greens in a green smoothie and enjoy!
As you can see dandelion is a surprisingly healthy plant - maybe not so deserving of the disdain many of us have for her as she beautifies our lawns.
If you plan to harvest dandelion from your own yard make sure you have not used any chemical fertilizers or weed killer on your lawn as those substances are quite toxic. There are many options to buy dandelion and dandelion tea online so if your dandelions aren't safe to consume take a peek below for a few featured organically grown dandelion teas.
If you find a good source of organically grown dandelion near you it is quite easy to make your own dandelion tea. There are many ways to make dandelion tea - from the flowers, leaves and even the roots. Each method yields a slightly different taste so stay tuned for a few dandelion tea recipes. Until then try out the many dandelion tea benefits with one of these fine organically grown dandelion teas for sale on eBay.
Where to Buy Dandelion Tea