If you've read my green smoothie inspiration you'll know our recent adventure into the world of green smoothies has begun with a splash. And true to our kitchen creative nature we had to do some tinkering with the basic green smoothie recipe from the video.
We've discovered the fun and versatility of making green smoothies, and to my surprise we now have kids who can't wait to eat their green leafy vegetables - who would have thunk.
So here it is folks, drum roll please... our first green smoothie recipe dubbed by our 4 year old... The smoothie you can chew.
Green Smoothie Recipe #1: The Smoothie You Can Chew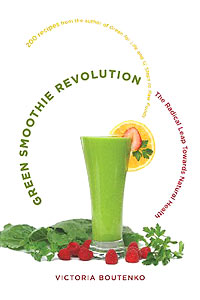 1 Mango (minus what you sample while cutting - so probably a half mango)
1 Banana
3 Strawberries
3 Broccoli florets
Handful of fresh Spinach leaves
2-3 Green Kale leaves
1-2 basil leaves
1 Tbsp Flax seed
Splash of Pomegranate Kefir
10-12 ounces of water or to desired thickness
Blend that baby up and enjoy some vibrant green goodness - Don't worry you don't really need to chew it. (unless of course you have a dull blender...)
Like the surprise touch of tartness on one's taste buds with a good fruit smoothie this post had a little surprise in store. Not long after the post was written we started getting searches related to The Chew. The Chew is a talk show style cooking show hosted by Daphne Oz (daughter of Dr. Oz). Coincidentally the very first episode was about her favorite superfood breakfast smoothie.
So for you Chew-able searchers I figure we could include that now famous smoothie recipe so you don't go away feeling left out by our "Chew-able" green smoothie recipe (but you should really try ours as well).
The Chew Smoothie: A Superfood Breakfast Smoothie
1/2 cup yogurt
1 cup fresh fruit of chic
1/2 cup blueberries
1 tsp honey
1 tsp psyllium husks
2 Ester-C capsules
1 cup ice
If you are a big fan of The Chew I recently discovered that they have a number of cookbooks - one highlighting each season Spring, Summer, Fall and Winter. The show already features healthy recipes so it wouldn't be hard to tailor these to your real food lifestyle. Take a look below:
And for your viewing pleasure here is the section of The Chew devoted to Daphne Oz's smoothie recipe if you haven't seen it before - it is quite entertaining (how would you like your dad running on and on about your blue face at birth on National television?):