Hey eco guys and gals, what do you get when you throw in some funky groovy tunes, a little organic produce, and a dash of salt all whipped up in high speed? Why, it is this little video on how to make Pico De Gallo!
I had to come up with some ideas for supper tonight for a good friend of ours so I thought I could go for some chicken fajitas with a dash of pico de gallo - so I turned to the fine folks at youtube for a basic pico de gallo recipe and then let my kitchen creativity take over... (I like to get a basic recipe and then play with it - and wish for the best) 🙂
First a trip to the local farmers market or organic grocery to pick up some organic goodies and then let the kitchen knives whirl into action - or in my case slowly hack at the ingredients and watch out for fingers - eeek!
Here's all the organic goodies you'll need for this Pico de Gallo Recipe:
3 medium tomatoes
1 medium sweet yellow onion
jalapeno or Serrano peppers (1 or more depending on your heat tolerance)
1/2 cup chopped cilantro
1 garlic clove (not a traditional Pico ingredient but I like-a-da-garlic)
1-2 limes
sea salt/pepper to taste
Wave your magic kitchen wand and whallah! Instant Pico De Gallo - oh wait first chop 'em up and mix 'em. Let it marinate in the fridge for a few hours or better yet over night and you have one perfect pico.
This post has been added to Fight Back Fridays for on a wonderful (new to me) blog called the Food Renegade. The Food Renegade and the fine folks who participate in Fight Back Fridays celebrate real earth friendly (and people friendly) food. Food that is locally-grown, sustainably produced and all-around good for us. Stop by Fight Back Fridays to learn how to prepare healthy foods, find new recipes to try, and new ways to be frugal & thrifty while still eating nutrient-dense whole foods.
Pico De Gallo Recipe Update 2013: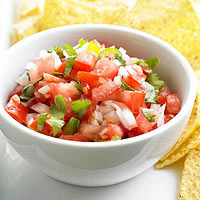 I was just making up some pico a moment ago and remembered this pico de gallo recipe I had written about a few years ago - time flies eh? It is interesting to see this was the first time I discovered Fight Back Friday's at the Food Renegade if you haven't stopped by I encourage you to do so - plenty of earth friendly food and natural health tips.
Back to the topic at hand my original Pico de Gallo recipe was made before I learned about fermentation and the wonderful health benefits of cultured and probiotic foods. So what I thought I'd do today was experiment with this Pico de Gallo recipe and see what a ferment would do to it.
How to make Fermented Pico De Gallo
Now traditionally if you are making a fermented salsa or lacto-fermentation as it is also called you would use Whey (the watery substance you see when yogurt separates) however since I didn't have any old yogurt sitting around or a magic whey wand, and since I had just finished making some brine cured pickles I figured I'd try a simple salt ferment with this pico de gallo recipe.
The ingredients are still the same you just need more sea salt. What I would so is after cutting up the cilantro I'd sprinkle sea salt over it, cut up some tomatoes sprinkle more sea salt and so on in layers until all the ingredients were mixed together. All total I used about a half tablespoon of sea salt for the above amount of ingredients. Then it is simple cover the mixture leave it on your counter for a couple days and enjoy your fresh fermented pico de gallo! If you still have any left after the first serving seal it up and put 'er in the fridge.
This fermented Pico de Gallo recipe was shared on Real Food Wednesday.