Sometimes you need a little indulgent treat to top off the tummy after a delicious meal. But if you're trying to avoid white refined sugar most store bought custards or even custard recipes you find online are a pretty big no no.
Maple syrup comes to the rescue in this delicious melt in your mouth treat that keeps you satisfied - I love that there is no refined sugar added; it is super simple to make with real natural ingredients. Plus homemade custard doesn't contain any artificial flavors, preservatives and wheat-based thickening agents that some store custards do.
I even have this yummy maple custard as a snack because of the protein from the eggs, calcium from the dairy, and energy I get from the maple syrup. (sounds down right good for you when you think of all the real whole food ingredients)
So without further ado...
Our Super Simple Natural Custard Recipe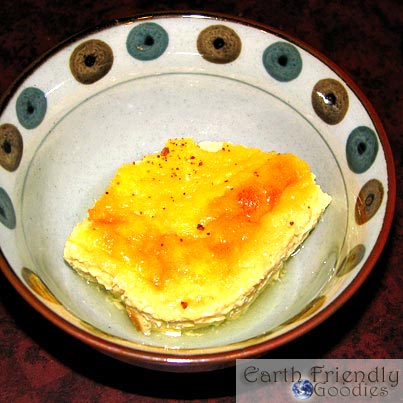 • 6 farm fresh eggs
• 3 cups whole milk
• ½ cup maple syrup
• 1 tsp pure vanilla extract
• ¼ tsp sea salt
• nutmeg (optional)
Making Custard: Preparation and Baking
1) Preheat oven to 400 degrees F
2) Whisk together eggs, salt, milk and vanilla - blend in maple syrup (yes it really is that easy)
3) Pour into 8x8 (or 2 Liter) glass baking or casserole dish
3) Bake for 40-50 min (until nice and brown on top and a knife inserted in the middle comes out clean)
4) Serve warm or cold, sprinkle with nutmeg (or we love it with pumpkin spice)
5) Enjoy!
Extra Tips for Making Perfect Baked Egg Custard
While I love this custard recipe because it is so simple, baking any egg dish takes a bit of practice to get the texture right. Here are a few tips and extra methods to making a great custard.
Eggs:
Using the freshest eggs you can find when making egg custard is the key. We are lucky enough to have a local small farm where we get fresh pastured eggs. If you can't get pasture raised eggs opt for organic eggs for the most health benefit (the more orange the egg yolk the more nutrients).
Beat the eggs gently with a wire whisk before adding in the other ingredients. Your custard will come out much smoother. Also, beating the eggs lightly prevents air bubbles from forming which changes the texture of the custard.
Strain the eggs:
A simple tip for a smooth creamy custard is to strain the egg mixture before cooking. This removes any unmixed egg whites which lets your custard get its smooth on so to speak. A smooth custard is a happy custard.
Water Bath:
While you don't need a water bath (I've made some great custard with the no frills method I mentioned above) a water bath ensures your custard is cooked evenly. Also, if you choose to bake your custard in ramekins a water bath is essential.
To make a water bath, place the baking dish or ramekins into a deep baking dish lined with a tea towel. Add hot water into the lined baking dish about 2/3 the way up until it reaches the level of the custard inside the ramekins or dish. A water bath or bain-marie (the Fancy Nancy name) protects the custard from the direct heat of the pan bottom, this assures the custard cooks gently and doesn't overheat and separate.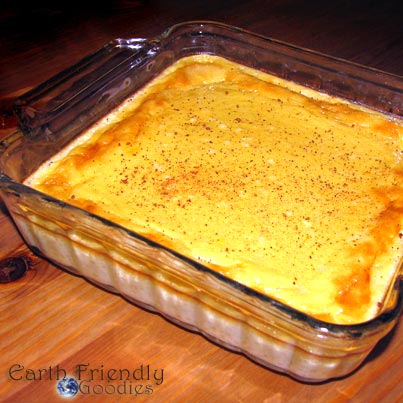 Timing:
Making egg custard is a delicate balance when it comes to timing because you don't want to overcook your custard. A trick is to shake the baking pan to check for doneness.
Does your custard wiggle only slightly when you shake? Then do a happy dance because it is ready to be taken out of the oven and enjoyed!
If your eggs don't have that nice jiggle, they are overcooked and the custard won't have the proper texture.
Do you have a delicious homemade custard recipe you really love? Let us know; we always like trying healthy new recipes. And remember sharing feels good - please share this simple custard recipe with at least a million friends (that's a lot of feelgood-ness)
Love desserts, but they don't love you? How would you like to sink your teeth into 50 guilt free dessert recipes (okay fine don't eat the recipes just the nummy desserts you make)
I am in love with the Healing Gourmet's new dessert cookbook - they revamped all your favorite dessert recipes to remove every ingredient that was unnatural or refined, as well as anything that would spike your blood sugar or cause your body to store fat. They are actually GOOD for you!
Give it a try by clicking below: