Do you think you'd enjoy an extra special chocolate milk recipe? (yeah, dumb question it's chocolate) I have to admit I hadn't indulged in chocolate milk in a long time - but who says adults can't enjoy a good chocolate milk now and then? And for that matter who says chocolate milk has to be completely unhealthy?
Granted throwing overly sugared chocolate milk power into a glass of milk and giving it to my kids isn't high on my list of naturally healthy snacks, but with this chocolate milk recipe you are about to discover (are you full of anticipation yet?) you can feel a lot better about an ice cold glass of creamy milk chocolate for yourself or any "kids" (yes husbands and boyfriends can count as kids) you may have in your life.
How to Make Buttermilk to Enhance Your Chocolate Milk Recipe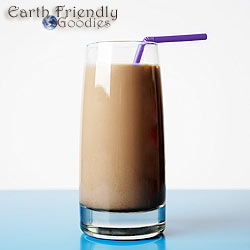 Before revealing my secret chocolate milk recipe let me preface by saying I recently received the Nourishing Traditions cookbook as a gift so I have been learning all about how to make buttermilk - one of the secret ingredients in this chocolate milk recipe.
Buttermilk is super easy to make, just put a 1 to 3 mixture of buttermilk (store bought organic is fine) and whole milk (raw or non-homogenized is best - just no ultra pasteurized) in a covered container and let it sit on your counter for 24 hours and you have yourself some buttermilk. If you need more buttermilk just put a cup of your existing buttermilk in a new container throw in 3 cups of whole milk and away you go all over again.
That's normally how you make buttermilk, but I like to experiment and we were leaving for a week vacation and had some cream we needed to use up so I thought hey I wonder how that would be in buttermilk… so I added about a quarter cup of cream to my already finished batch of buttermilk in the fridge and away we went.
Upon our return I discovered... It Was Heavenly!
I had been making a chocolate milk recipe using our homemade buttermilk a few times but with this new super creamy buttermilk it was oh so much better, so I figured I had to share.
Super Deluxe Extra Creamy Chocolate Milk Recipe
Here is what you'll need, and forgive me for not knowing exact measurements but as I said before I like to experiment so I never really follow a precise guide. I'll do my best to guess at about how much I use. You can use the ingredients to taste.
1/4 cup extra creamy "cream buttermilk"
1 1/2 cups whole milk
2-3 Teaspoons chocolate milk powder or syrup (organic is best of course but I won't tell)
1 Tablespoon strawberry and honey Greek yogurt
Note: the strawberry Greek yogurt really ads an extra layer of indulgence to this chocolate milk recipe. I plan to try my hand at making yogurt one of these days and I'll give it a try with some homemade yogurt and let you know how it is. (I'd like to try yogurt starters that don't require heat - just culture it on your counter!)
The super healthy probiotics in the buttermilk and yogurt really make this delightful chocolate milk recipe about as healthy as you can make chocolate milk. I hope you enjoy it as much as we have. I'd love to hear about your favorite chocolate milk recipe in a comment below!