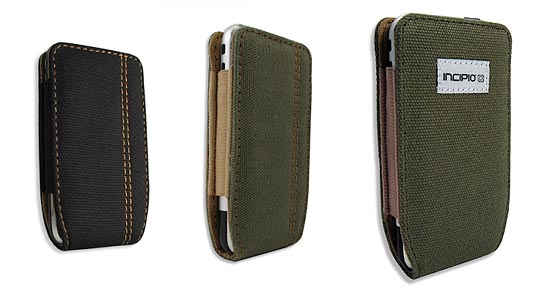 As we Mac and iPhone geeks drool over the news from WWDC 2009 my thoughts turn to what eco-cool accessories can we spiff up our new Apple toys with – and particularly the new iPhone 3G S.
I was hoping I would find some cool eco-friendly fair trade iPhone cases at eBay's World of Good
, but so far the selection is slim – perhaps they will be inspired by the news from WWDC and quickly sew up some winners.
For now take a look at the Incipio ECO|Case an organic canvas case for the iPhone 3G, they also have one for the iPod Touch (which my family has recently gotten me hooked on so I am frantically searching for a good sale). The Incipio ECOcase is available in two colors of eco-coolness an earthy green and a natural black with tan stitching.
Incipio says about the ECO Case: "it uses an Earth first approach, using environmentally friendly materials with a soft lining that cleans and protects the screen" – a must when using your new iPhone 3G S while eating a bag of Cheetos.
Once you snap up one of these eco-cool organic iPhone cases you can give yourself the 'ol tree hugger pat on the back as you eagerly anticipate the arrival of your new iPhone 3G S all wrapped up in its recyclable PaperFoam packaging. All around earth friendly goodness!