I was looking through an old article today titled "The Most Toxic Places in Your Home" and number seven was "Your Cat's Litter Box". The author of the article was preparing for the arrival of her new baby girl in a few months and was going through her home looking for toxic areas to de-toxify. We all know about the danger of changing cat litter while pregnant (Cat feces can carry a parasite that causes toxoplasmosis, an infection that can cause miscarriage, congenital defects, or other problems to developing babies - personally I think it was made up just so the husband would have to change the cat litter) but there is a danger in the cat litter as well that effects all of us.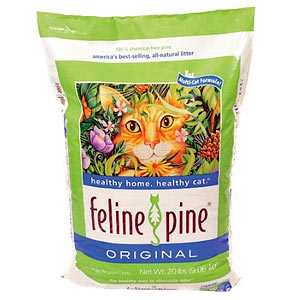 Cat litter can contain crystalline silica a known carcinogen, basically if your cat litter says go to the ER if swallowed - you probably should not have it in your house. I personally don't go around eating cat litter but the dust from cat litter is just as toxic.
There are plenty of more natural cat litters available including cat litter made from corn, wheat, alfalfa, cedar, newspaper and my personal favorite pine. Actually we've only tried a few alternative cat litters, but once we tried Feline Pine we've pretty much stuck with it since it has been the best cat litter we've used. We tried Yesterday's News cat litter, a newspaper based cat litter but it just didn't handle the smell as well as the Feline Pine.
Why Feline Pine is the best cat litter:
1) Pleasant pine smell really hides the smell of cat urine.
2) Turns from pellets to sawdust (time to change the box).
3) Easy to scoop, but it helps to have a scoop with large enough holes for the pellets
4) Safe for kitties and cats of all ages, no more allergies or asthma, dust free and chemical free (so it is safe for you too)
5) Biodegradable, all natural and environmentally friendly (the pellets are even flushable)
6) More affordable than many cat litters we've tried, plus it lasts a long time before it needs to be changed.
Cons:
1) Some cats take awhile to adjust to it. Our two older cats took to it right away, but other cat owners have said that their cats wouldn't use it. According to a review by a litter box rehabilitation specialist you should go slow and hang on to your old litter box until the cat has fully transitioned to the new Feline Pine cat litter. She also recommends using the Feline Pine litter box or any sifting litter box should work.
2) Some complain about the sawdust or pellets tracking, although we haven't had a big problem with that - a few pellets make their way out of the box but an occasional hand vac or sweep takes care of that.
What natural cat litter have you tried? Please share your opinion below. We'd love to hear from you.
If you'd like to try Feline Pine (or if you see a sale you just can't pass up) Below you'll find a current selection of Feline Pine cat litter for sale on eBay.