KEEN Newport Pack Backpack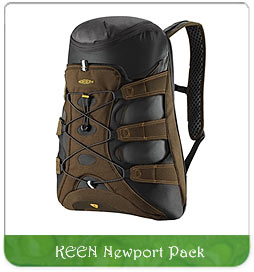 KEEN Says: Go from the office to the trailhead with the KEEN Newport Pack. Versatility is built into the pack with a laptop sleeve and hydration bladder pocket. Padded shoulder straps adjust to your preferred comfort level. Zippered pockets both inside and out allow easy access to essentials on and off the trail.
He Says: There is something about this KEEN Newport Pack Backpack that really appeals to me - perhaps it is the rich brown contrasted with the black nylon - or the fact that it looks a bit like my rolled up sleeping bag and really gives me the urge to hit the camp ground and enjoy some nice cool nights and a crackling fire while I hold my new KEEN Newport Pack to my warm chest and cuddle it tight. Umm, sorry got a bit carried away there. I tried this backpack on recently and it is a comfortable pack with the features you need for a good hike. ie.. it is hydration compatible and will hold a 15" laptop - although I don't do a lot of computing while hiking in the woods, it does make for a nice commuter backpack feature though.
She Says: The KEEN Newport Pack is more geared toward a guys style sensibilities but if you are an outdoor girl you'll love this bag, even more so if you want an earth friendly backpack to go along with your Keen Newport H2 Sandals. I may just have to get myself another pair of Newport H2 sandals to match this backpack if my hubby decides to buy one (as I was typing this up I saw a pair that matches perfectly!) I saw this backpack the other day at an outdoor gear store and it looks to be very well made, durable with plenty of room for a quick day in the woods - or even a nice school backpack if you don't want to bring all your books. Plus you'll feel good knowing KEEN is making an effort to re-use much of the rubber and aluminum left over from its shoe making endeavors to make this Newport Pack Backpack.
• Overall Dimensions: 20" x 12" x 8"
• 100% recycled aluminum components, interior liner, and molded rubber bottom
• Exterior bungee strap compression system and stash compartment
• Lightly padded 15.4" laptop sleeve
• Hydration bladder pocket with hose outlet
• Adjustable mesh and foam shoulder straps with sternum strap, breathable mesh and foam back panel, interior mesh pockets, and hidden webbing waist strap
This is an older style KEEN Newport Pack, they now have an updated KEEN Newport DP, but I still love the earthy brown color of this pack. Below we've listed the current selection of KEEN Backpacks on ebay so you can check out what else they have for sale right now.
Earth Friendly Tid Bit

: Keen's Hybrid Transport line contains 40 percent recycled materials with a goal of reaching 100%. This Keen Newport Pack Backpack has 100% recycled aluminum components, interior liner, and molded rubber bottom. The company also uses boxes made from biodegradable materials, natural water-based latex glue and soy-based inks.
Find the KEEN Newport Pack and other Keen Backpacks for Sale on eBay
Unfortunately the Newport Pack from Keen isn't being made any longer but that doesn't mean you can't pick one up on eBay - or perhaps find another style of Keen backpack that you'd enjoy just as much.