The first time I tried fish oil I discovered the downside real quick – it slides down nice and easy but the fishy aftertaste is a real sinker (oops did I just say that? 🙂 ). If that wasn't bad enough the dreaded fishy burps hit me like a school of sunfish after a handful of breadcrumbs. Top that off with some garlic and onion bagel chips and no one wanted to get within 10 feet of me – including myself!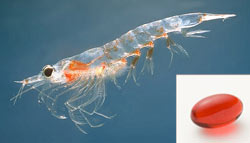 Good thing for those of us with an aversion to fishy burps there is a new Omega-3 superhero in town that has all the great health benefits of fish oil but doesn't have the dreaded fishy burps. Krill oil is made from krill - shrimp-like crustaceans that live primarily in the Antarctic Ocean and northern Pacific Ocean.
Krill Oil vs Fish Oil
Not only are there no fishy burps with krill oil, it is more potent than fish oil (about 3 times more so), more efficient, and also contains a bright red antioxidant called astaxanthin. The algae that krill eat produce the bright red pigment astaxanthin that gives krill and other crustaceans such as lobster and shrimp their reddish-pink color. Don't worry krill oil won't turn your hair and skin red, but the astaxanthin is found to protect our cells from carcinogens. In fact, it is supposed to protect the eye, brain and central nervous system from free radical damage.
Other benefits of krill oil (as well as fish oil) are lowered cholesterol – krill oil packs an even bigger punch according to a study done with 120 people. Krill oil reduced LDL ("bad") cholesterol by 34% and increased HDL ("good") cholesterol by 43.5% compared to the placebo. In comparison, fish oil reduced LDL cholesterol by 4.6% and increased HDL cholesterol by 4.2%. On top of that krill also lowered triglycerides.
Krill oil was also effective at reducing arthritis symptoms and inflammation and is believed to help reduce PMS symptoms as well.
As a side note to the earth conscious among us, krill is the main food source of many marine animals including whales, and penguins so it is important to check with the manufacturers of the krill oil you purchase to make sure they are using sustainable fishing practices.
Below are a few current krill oil sellers on eBay – try some out and say goodbye to the fishy burps