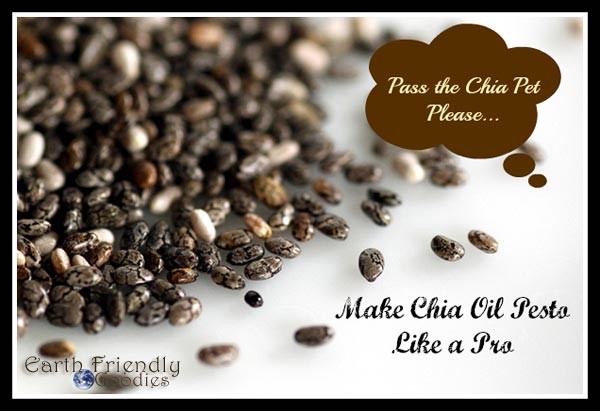 Love pesto but looking for a change of pace - or maybe a substitute for olive oil in pesto? Have you heard of chia oil? Yes it really is made from the same seeds as those found in late night infomercials and children's cartoon networks. While I don't know if I'd delve into the head of my Chia Pet for a late night snack the use of gluten free chia seeds and chia oil is becoming the latest health craze and makes a pretty darn good pesto.
Chia seeds and chia oil are packed with beneficial Omega-3 fatty acids, even more so than flax seed (in fact chia seeds are the richest plant source of Omega-3, and you'll even hear blatherings about it having more omega-3's than salmon if you eat 100 grams or like almost a half cup - personally I don't go around downing half cup sized handfuls of chia seeds - but the point is they are good for you)
Now back to our regularly scheduled program
- Chia Oil Pesto.
Pesto comes in many shapes and sizes - or textures and consistencies. Different ingredients can be used with subtly different tastes, but the basics are basil, pine nuts, Parmesan cheese, and an oil - usually olive oil, and of course if you like a pesto that bites you back (and anyone within 10 feet of you) garlic. Yum. Chia oil has a light buttery taste that is scrumptious with toasted pine nuts and roasted garlic.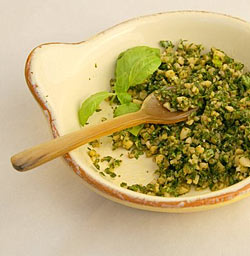 Most people associate pesto with a thick or creamy paste - but I like to make a lighter fluffier pesto that goes absolutely sublimely perfectly on top of a nice juicy turkey burger. (oh great I just awakened the beast and my taste buds are working overtime to get me off the computer and placate them with a snack) Basically what I'm saying is that if you like a traditional pesto consistency just modify the ingredients (add more chia oil) until you get what you are looking for.
So enough dilly dallying already here's what you'll need for a Chia Oil Pesto
I'm sure you can figure this one out, but for those not used to making pesto I'll give you the list...
1. A good handful of fresh basil leaves
2. 1-2 tablespoons of toasted pine nuts (or cashews, sunflower seeds or almonds will work if you can't get your hands on pine nuts. I've even used crackers in a pinch, shhh don't tell)
3. One clove garlic (or more if you don't have a date in the next day or so) but one should be plenty.
4. A couple tablespoons Parmesan cheese (yes I know could I be more vague? What can I say I don't like to follow rules)
5. 1-2 tablespoons chia oil
Pulse that up in a food processor until everything is blended into a light fluffy mixture, but before it turns to a paste. whalah! or however you spell whalah. Serve and enjoy, or take your picture with your chia oil pesto and post it on Facebook if that's more your thing - but really it's meant to be eaten.
Your Turn to Share: What Have You Made With Chia Oil?
I'd love to hear what you think - what do you use Chia oil for?