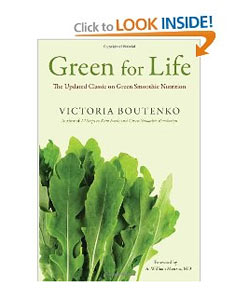 Today I was blasted with a Green inspiration (just the thought of green sends warm flashes of Spring coursing through the room - I just wish some would flow outside where it is a not so springy 17 Degrees Fahrenheit). I was introduced to Victoria Boutenko and her series of books on Green Smoothie recipes thanks to a fellow natural health blogger and her recent post Drink Your Greens. She shared a video (see the video below) of Victoria talking about the wonders of green smoothies and a little taste test of a banana, mango, pear kale smoothie - a very vibrant green smoothie recipe that I look forward to trying since we just picked up some nice juicy mangoes.
Check out the video below for some
Green Smoothie inspiration of your own:

After watching the video the green smoothie monster grabbed me by the hand and forced me to look up some of Victoria Boutenko's green smoothie recipe books. The video mentions Green for Life
which is her highly lauded 2005 release. I also discovered her recent 2009 book Green Smoothie Revolution: The Radical Leap Toward Natural Health
which includes 72 pages of green smoothie recipes submitted from all over the world. It is rather inspiring to hear the great reviews these books get and the stories of increased health and wellness from introducing green smoothies into their diets. I immediately reserved both books at the library, but if you aren't the waiting kind they are both for sale at Amazon.
Now I'm off to get some kale to go with that nice juicy mango... (and hey some of that Green inspiration must have spread outside after all... it's now a balmy 24 Degrees outside)
Update: I'm still waiting on those books from the library, but in the mean time we've been experimenting with some green smoothie recipes of our own - and I've been blown away! The kids actually LOVE these! Take a look at our first green smoothie recipe experiment - dubbed the smoothie you can chew.