With the grand opening of Mirimichi, Justin Timberlake's first ever sustainable golf course in the US to receive the Audubon International's Classic Sanctuary certification now open, I was pondering (because I am a pondering sort) the juxtaposition of the beauty of a well maintained scenic golf course with the environmental reality that golf courses use an exorbitant amount of water and pesticides.
Golf courses get a bad wrap, just mention one to a hard core environmentalist and watch out for a barrage of obscenities. I can't help but think these courses if built right can be a model of conservatism and an inspiration for eco conscience land management. Prime example is Justin Timberlake's Mirimichi, a multi-million dollar sustainable golf course re-built from the ground up. Another course along the same lines in Panama is The Isla Viveros Resort's golf course due to be completed in 2011. But what about the little guys, public and semi-private courses that don't have 16 million to renovate their course, is your favorite local course doomed to be the "bad guys in golf?"
Not necessarily it seems. I was out on the links the other day in one of my bi-annual attempts to pretend I know how to play golf when I noticed (on one of many scavenger hunts for a sliced ball) a simple little sign stating something to the effect of "No Carts – Step Carefully." The Sawmill golf course in Stillwater MN was maintaining a major grassland restoration project along the fairways of its course. Not only does this save the course money in water usage, it provides a natural habitat for wildlife of all kinds – so the Tiger Lillies and the Tiger Woods will be happy at the Sawmill.
These kinds of sustainable golf initiatives can go a long way toward cleaning up the earth as well as your environmentalist friend's sailor mouth, but what can you do to help the environment and still enjoy your favorite summer pastime?
Eco-Friendly golf balls and biodegradable bamboo golf tees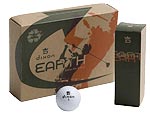 I did some digging and discovered a couple of possibilities for greening up your golf game. The first is Dixon Earth eco-friendly golf balls. Dixon Earth claims to make the first 100% eco-friendly golf ball that actually performs on the course. Delivers the distance & spin of a high performance golf ball while being 100% recyclable. You can also send back used Dixon Earth balls for a discount on your next purchase.
If you are like me you practice the ultimate in conservation on the tee box by re-using whole tees left by others, but if you golf more than a few times a year you'll probably need to buy some golf tees. Well, I also discovered an eco-friendly 100% natural and biodegradable golf tee from an Australian company Cane-It. Cane-It tees are made from bamboo which is a very strong sustainable plant that grows quickly, unlike trees which according to their site the simple wooden tee is responsible for the destruction of hundreds of thousands of trees annually.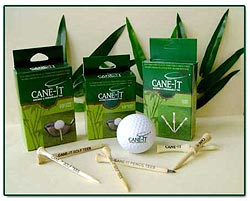 The organic formula within the tees assist soil rejuvenation by way of mulch when mown over, Cane-It tees shred into grass like fibers without damaging mower blades. But the bottom line is always how do they work? In an independent study I discovered performed by an avid golfer and blogger it was found that Cane-It tees are much more durable than wood tees, break less often and add 50 yards to your drives… ok, just kidding about the distance but they are stronger tougher tees that are also eco-friendly and that alone makes me want to search the next tee box for some Cane-It bamboo tees.