I was reading the latest issue of Natural Health Magazine and was grabbed by a rubber duck. Well he kinda flapped me in the face with his BPA laden wing but you get the picture. Or maybe you don't, but if you check out the book Slow Death by Rubber Duck: The Secret Danger of Everyday Things you'll get the picture fast. Last Summer I went to a seminar on environmental toxins (see Benzine Cloud Terrorizes Households) and was shocked by the amount of chemicals we are exposed to every day without even knowing.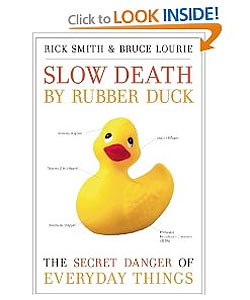 Well, back to the rubber duck. For one week authors Rick Smith and Bruce Lourie who normally use all natural organic products as good eco-geeks try to do, switched to the every day products that the rest of us use - shampoo, dish soap, toothpaste etc...
As you might guess at the end of this little experiment - their levels of toxic chemicals jumped significantly and Smith's BPA levels jumped 7 times higher than before - this is after one week! You might make the argument that their levels of these toxins were pretty low because of their conscious effort to buy non-toxic products regularly so a seven fold jump might not be that much but how many of us use only all natural products every day?
Ever since I went to that seminar we've been switching to as many all natural products as possible, but it can be hard to tell what products are actually all natural and which one's just say they are. I am always amazed when I see advertisements in natural health magazines for products only to read the label to find ingredients that are on the no no list. Slow Death by Rubber Duck: The Secret Danger of Everyday Things gives you the means to tell which products are safe.
Without trying to sound like I'm standing on the street corner with a sign board screaming about the dangers of everyday products - if you care about your health and the health of those you love give Slow Death by Rubber Duck a good look over. And don't let his BPA laden wing slap you in the face again.
As one reader states: "I always considered myself to be rather savvy when it comes to where I come into contact with carcinogens on a daily basis. I have known about phthalates and BPA and fire-retardants now for many years, but I had no idea the extent to which the chemical companies have infused their questionable chemicals into every crevice of our daily lives. It is shocking and appalling and completely reckless. The only way we can turn this tide around is to arm ourselves with knowledge and demand change. Read this book! If you're not angry after reading it, you weren't paying attention!"
Yah, What they said.