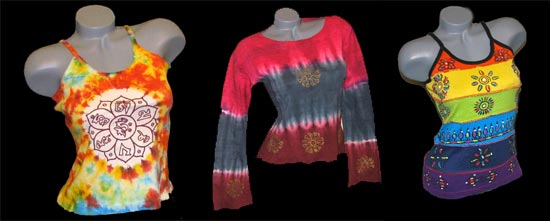 Going Green has never been so Groovy with these Fair Trade Yoga Clothes
I found a delightfully delicious new ebay seller on ebay's eco-conscious World of Good today. Iron Lion Imports (consciousclothing is their ebay store name) has a huge selection of handmade fair trade goods made in Nepal. A small family cooperative makes all the products, including clothing, jewelry and bags. They utilize traditional Nepalese techniques with modern styles and designs provided by the founders of Iron Lion Imports.
All of their fair trade products are quite nice but their line of vibrant fair trade Yoga clothes; tank tops, halters, and tunics really caught my eye. These gorgeous hand crafted yoga clothes really have a zen beautiful feel, many even have hand painted designs and yoga symbols wonderfully designed into the fabric, like the tie dyed rainbow colored yoga tank top with unique Om Mani Padme Hum lotus design shown on the left at top.
(Take a peek at their current selection of yoga clothes for sale below)

To up the eco-friendly anti on their line of yoga clothes they are made from organic Non-GMO ingredients (GMO stands for genetically modified organisms), and over 50% is from biodegradable materials.
If you love to show off your bright vibrant inner beauty on the outside you'll love these hot fair trade yoga clothes. Even if you don't practice yoga these eye catching yoga tops will go great with a pair of jeans.