Have you ever suffered from colds, flu, chronic fatigue, diarrhea, constipation, bloating, IBS, yeast infections, allergies, asthma or a good 'ol ride on the toot-toot train? Well, chances are you could use a shot of probiotics.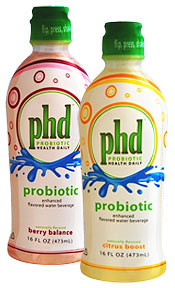 Probiotics (meaning literally for life) are the "good bacteria" or intestinal flora that form a protective layer in our digestive tract that assist in nutrient absorption and prevent absorption of toxins. In other words this protective layer helps support digestion, process vitamins, regulate immune function, remove toxins, and crowd out bad bacteria. Unfortunately our natural gut bacteria is killed or harmed by preservatives, antacids, alcohol, stress, antibiotics, and many other toxins in our environment so pretty much everyone could benefit from a few billion friendly flora.
Probiotics are naturally found in fermented fruits and vegetables and foods like yogurt, sauerkraut, soy sauce, crème fraiche, and kimchi, among many others. However, many manufacturers of these products pasteurize and over-process these foods killing the naturally occurring live cultures.
I had heard about probiotic supplements but wasn't all that familiar with what they did until recently. This last weekend though on our way out of town for a little mini vacation as chance would have it we discovered a delightfully delicious new drink called Probiotic Health Daily or phd. They were so good in fact that we had to stop on the way home as well and pick up a couple more.
Phd is a naturally flavored water drink made from organic agave nectar, organic cane juice, natural berry and fruit flavors and most importantly of course six specifically selected strains and 20 billion cfu (colony forming units) of probiotics. The live cultures help to naturally balance and regulate your digestive tract in the Berry Balance flavor or help strengthen your immune system with the Citrus Boost flavor.
To up the cool factor the probiotics are released once you press the "magic button" or patented push-button LifeTop to be more correct (magic button sounds cooler though). The LifeTop protects and preserves the delicate probiotics allowing you to release them when you're ready. Then you shake-a-roo and watch the color change to a nice bright orange – presto chango you have one delicious probiotic drink and one satisfied tummy – in more ways than one.
If you have tried other probiotic drinks or products please share, we'd love to learn more.