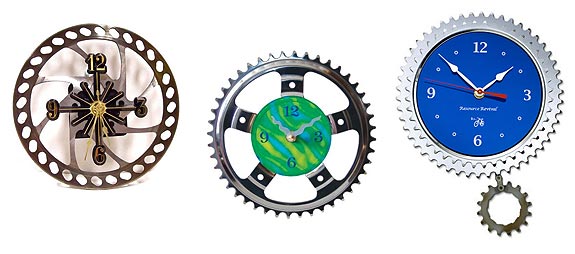 In the true spirit of reusing and recycling I've discovered a pleasurable way to enjoy a love for bikes with a recycled bicycle clock. I discovered these fun bike clocks while ironically enjoying a nice sunny bike trip with the family. We passed by a unique little shop selling remade items and these were featured on the walls. These fun and creative recycled clocks are made from the chain sprocket of an old bicycle and other various bike parts saving these eye catching cast-offs from landfills.
Once I got home I had to do a bit of searching to find out where else you can get a bicycle clock for those not lucky enough to pass by a bike clock shop.
Two sources popped up real quick in my search, the first is an Etsy shop that specializes in the most creative bicycle clocks you'll find made not only from recycled bicycle parts but old map pieces and fabric as well. If you love biking or know someone who does these are must see handmade clocks. Who knew a recycled bicycle clock could be such an amazing esthetically intriguing addition to ones wall.
The other surprising spot (not sure why it is surprising they have just about everything) for bike part clocks was good 'ol eBay. EBay has a pretty good selection of clocks made from bicycle wheels and other recycled bike parts. Take a peek and see if there is a sprocket clock that enchants you as much as they have me.
Below you'll find recycled bicycle part clocks for sale and perhaps a few other recycled clocks from eBay