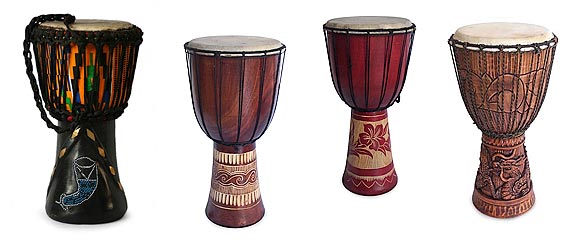 These fair trade African Djembe drums for sale (pronounced jem bay) are a beautiful work of art and a wonderful sounding musical instrument. If you are a music lover this is another fantastic find from the fine artisans at World of Good. Djembe drums are traditionally used to set the beat for dancing during special feasts and ceremonies, but they have found a place in the hearts of musicians around the world because of the rich sound and creative designs.
Beautiful Hand Carved Djembe Drums for Sale from Novica
These Djembe drums for sale from Novica are wonderfully hand carved from local tweneboa wood with a drum head made from goat skins. The designs often depict traditional African stories, legends or symbols and range from fairly simple to very elaborate hand carved designs, all are beautifully crafted and have that distinctive rich Djembe drum sound. Check out the Djembe drum youtube video to hear a sampling of that traditional Djembe sound.
You will find some of the wonderful Djembe drums for sale below created by African artisans like Eric Darko, Abubakari Alhassan, Salihu Ibrahim and Khoirul Anam. EBay also has a very nice selection of Djembe Drums from quality drum makers from Remo, Meinl Percussion, Mother Rhythm Drums, and Toca.
Novica in association with National Geographic supports fair trade artists in Peru, Brazil, Mexico, Indonesia, Thailand, India, and Ghana by offering handmade jewelry, apparel, home and garden décor, musical instruments and original and limited edition fine art, from artisans in these developing nations.
"Every day at Novica, we are inspired by the limitless possibilities of peace and understanding that develop when people from distant nations and diverse cultures come together to learn about, appreciate, and support one another, sharing stories about their lives, hopes, dreams, and cultures. The founders of Novica launched the company with the dream of significantly helping change lives around the world."
Take a look at these Hand Carved Novica Djembe Drums for Sale on eBay Below