Three Fair Trade gifts for Christmas to feel good about
Having a hard time coming up with gift ideas this holiday season? If you are like me you have no idea what you want for Christmas much less what to get for the rest of your family members. Well, I figured it was a good time to take a look at eBay's World of Good for some inspirational Fair Trade items. World of Good specializes in inspiration with their huge selection of hand crafted Fair Trade gifts from all over the world.
So this year why not give a gift twice over by supporting the fine crafters around the world who contribute their skills and find a unique ethical gift for those hard to shop for family members.
Fair Trade items for Holiday Dinners: Hand Carved Bowls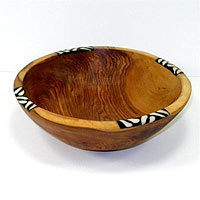 First off is a lovely Olive wood with inlaid bone bowl made in Africa by Jedando Modern Handicrafts which is a collaborative of more than 100 carvers in Machakos, Kenya. I love wood grain items and this hand carved bowl is a beauty with a rich grain set off with the black and white batiked inlaid bone.
The traditional mud cloth designs of the batiked bone is created by placing wax on the white bone and dipping the bone in a dark brown/black dye, resulting in these striking patterns.
These Fair Trade Olive wood bowls are being sold by Fair World Partners
founded by Christina Stimson. Take a look at the rest of their more than 180 Fair Trade items for sale including Fair Trade jewelry, purses and bags, kids toys, Christmas ornaments and more.
Fair Trade items for your tree: Hand Carved Fair Trade Christmas Ornaments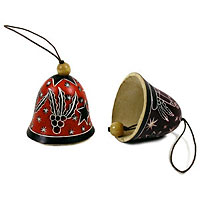 The second Fair Trade holiday gift that caught my eye were the many hand made Christmas ornaments - these here by master carver Luz Laureano are something special. Luz from the village of Cochas Peru hand tools these Christmas tree ornaments from gourds and creates the fantastic designs by burning into the gourd with eucalyptus embers. They look hand painted but are actually dyed with natural vegetable dyes that will hold their color much better than paint. Each bell shaped ornament is about 3 inches tall by 3 inches wide. For $24.95 (with free shipping) you get not one but six of these beautiful bell shaped Christmas ornaments. Compared to some of the other hand made Christmas tree ornaments this is quite the deal.
These fine Fair Trade Christmas ornaments are being sold by Sanyork Fair Trade
fouded in 2001 and based out of the small town of San Juan De Lurigancho on the outskirts of Lima, Peru. A community of 63 artisans create wool woven home decor, carved gourds, pottery, musical instruments, metal wall decor, sterling jewelry, knit Alpaca apparel, cotton apparel, and bags and accessories all while passing down the tradition of hand crafted goods to the next generation.
Fair Trade items for gifts: Recycled Gift Wrap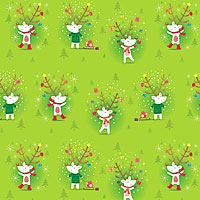 You can't have a holly jolly Christmas without some fun gift wrap and this eco-friendly recycled gift wrap is a perfect holiday gift for yourself or anyone you know. Besides who says Fair Trade artisans have to live thousands of miles across the globe? These fun, creative and as I mentioned eco-friendly gift wrap designs are sold right here in the US by a family owned business called Sweet Organics and Naturals
. Sweet Organics sells products from local artists who care about the environment and create unusual, recycled, sustainable, handmade, natural or otherwise eco-friendly goods. A few of the many items you'll enjoy are eco-jewelry, tree free & recycled greeting cards, tree free & recycled gift wrap, bags, gift tissue & biodegradable ribbon.
For example this fun eco-friendly reindeer gift wrap is produced by Earth Love'n Paper who is committed to saving trees by making their gift wrap out of 100% recycled post-consumer waste. Made from chlorine free paper with no harmful nasty bleaches these fun recycled gift wrap designs make even the trees smile (well at least the ones still growing in the forests). To top off the eco-coolness Earth Love'n Paper plants a tree for every 10 packs of recycled gift wrap sold - so buy ten and give the planet a breath of fresh air.
In looking for these 3 Fair Trade items to Feel Good About I discovered many beautiful unique creative Fair Trade gifts that I'm sure you'll enjoy too - please visit any of these fine sellers and see what they have to offer, a word of warning since these Fair Trade items are hand crafted they are in limited quantities. Have a mighty fine Fair Trade holiday from Earth Friendly Goodies.