Creative Homemade Halloween Costumes for Girls and Boys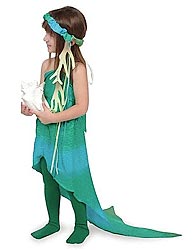 How often do you make or buy homemade Halloween costumes that are used only once because they are too scratchy and uncomfortable to ever wear again? Too often I would imagine. Are you left with a pile of pirates, princesses, and various ghouls and ghosties with no little kiddy to make them come alive once the candy has been consumed and the pumpkins have been turned into pie?
If you'd rather your kids could make use of those homemade Halloween costumes and their imaginations year round let me introduce Sarah's Silks. Sarah's Silks is a company started by Sarah and Mike Lee from Sonoma California who are dedicated to helping create a better world through imaginative play.
Sarah's Silks offer a large selection of delicately delightful "quality play silks, toys and dress-ups for boys and girls between the ages of 3-10, that ignite the imagination, and capture the magical soul that lives in young children."
How are Sarah's Silks Homemade Halloween Costumes Made?
Silk is a natural fiber and renewable resource so it falls into that eco-friendly pile of playthings we so love here at Earth Friendly Goodies. Besides the eco-friendly nature of silk all the handmade dress-up silks use non-toxic vinegar-based dyes and are hand made by home based seamstresses in Shanghai China then shipped to Sonoma California where a group of women working in their homes finish sewing, ironing and packaging them.
Our daughters love playing dress-up year round and will break out the princess costumes any time day or night (princes need kissing and dragons need slaying at all hours it seems).
If you are looking for a unique fairy tale themed Halloween costume or a Halloween costume you can make at home Sarah's Silks has several homemade Halloween costumes and silky accessories to choose from including dragons, unicorns, knights, mermaids, and of course princesses and fairies. Not only does Sarah's Silks sell completed costumes they also sell many fun flavors of play silks that you can use however you like to make your own homemade Halloween costumes.
Find a large selection of Sarah's Silks homemade Halloween costumes for sale on eBay as well as individual play silks for your own creative play below.