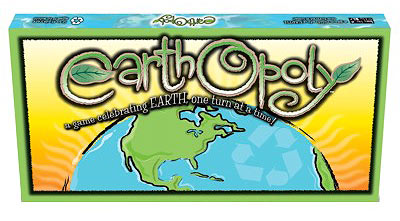 If you and your family are Monopoly junkies you'll get a kick out of this monopoly game variation. I was perusing eBay's World of Good and came across this earth-friendly find - Earthopoly. Just like the rest of the Opoly family of games from Late for the Sky Earthopoly is a board game in which you collect properties. But in an earth friendly twist you increase your property values by collecting Carbon Credits and trading them in for Clean Air - how eco-cool is that? If you are bad, Instead of getting sent to jail you get sent to the dump - yowza! And if you hit the big time in clean energy you can advance to "Go Green" and collect mucho Carbon Credits. This sounds like an amazingly fun game - it has my green blood a pumping.
From the reviews I have read this is a winner for kids and parents. The kids enjoy learning about the environment and the whole family gets to learn about nature, carbon tax, wind power, and pristine environments. Whether or not you use Earthopoly as a learning tool or just another fun family time game it looks like fun times to me - but then I'm a bit of an eco geek...
Not only is Earthopoly a game about the earth it is entirely eco-friendly itself.
* The ink is vegetable oil-based ink.
* The monopoly game pieces are either made by nature or completely recyclable.
* Game box made from 100 percent recycled Chip board.
* All the paper is recyclable and is made with 10 percent recycled pulp that comes from a mill that purchases pulp that is monitored by a responsible third party forest management group.
* Green Power was purchased for the electricity used to manufacture the paper for the box (renewable energy in the form of wind, hydro, and biogas).
If you'd like to take a crack at saving the environment with Earthopoly it is available to buy on eBay.