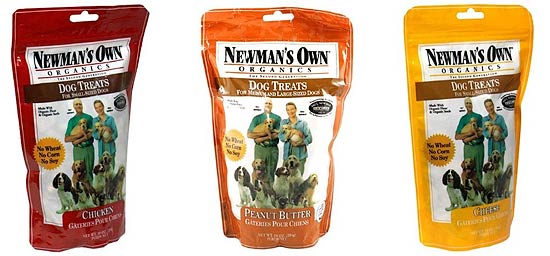 Once upon a time in a land far far away lived a puppy named Rufus. Rufus was a good little puppy so he got plenty of dog treats, treats when he held still for a nail clipping and a coat grooming, dog training treats when he rolled over on command and even treats for pretending to speak - he had his owners very well trained.
The problem was Rufus was unhappy, not unhappy because he felt unloved, he knew his people loved him very much, but Rufus was unhappy because his treats contained chemical fertilizers, antibiotics, and artificial preservatives - not to mention a certain amount of diseased meat by-products. (dead, dying, disabled or diseased food animals that have been rejected for human consumption end up in pet food and treats).
Rufus didn't think there was anything he could do about it, he knew his people would do anything for him if there was an alternative. So Rufus decided to take matters into his own paws and he called his good buddy Paul Newman - you know the one, that famous guy from all those movies who has his face on all those salad dressings now. Well Rufus said to Paul, you know buddy you have to look out for us pets, we need a healthy dog treat, in fact we'd love to have our own line of certified USDA organic dog treats.
Well Paul is a good guy so he created a line of Newman's Own®Organics Dog Treats (they make all sorts of organic pet food as well but little Rufus loved his treats best of all). Rufus told Paul to make these organic dog treats with human-grade ingredients, including certified-organic barley flour, ground chicken, carrots, apples, rolled oats, natural peanut flour, and a whole lot more natural and healthy ingredients - leave out the by-products, fertilizers, antibiotics, preservatives, artificial flavors, and colors thank you very much. Oh and leave out the wheat, soy and corn because Rufus and his friends were a bit allergic to it, not to mention it made them a bit gassy.
Paul was happy to oblige, he loved his dogs as well, and he created a great line of organic dog treats just for Rufus and his friends. So now when Rufus lets his people use dog training treats to get him to do embarrassing things he has a happy smile on his face because his pal Paul made sure he had some tasty organic dog treats. Rufus now is a very happy little puppy - just ask him he'll tell you.... after you give him a treat.