Review: Lights of America 40 watt LED Accent Lights
Bottom line... Thumbs way Down
• 3-Pack LED Torpedo Lights
• Small Base, 30,000 Hour Life
• Uses 1.5 watts (40 watt replacement)
• Package of 3 saves up to $348
• Warm White, Mercury Free
Well eco friends after a fun and exciting holiday (and a move into a new home - I don't recommend doing this during the holiday season - nor when it is extremely cold out - as I type this it is -23 Degrees Fahrenheit, Yowza!) we are back in action. Being the Eco-geek that I am I was very excited to get LED bulbs for Christmas. That is until I used them.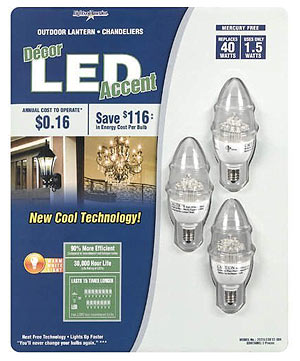 I received several 3-packs of Lights of America 40 watt LED Torpedo Lights and was very excited to put them in the chandelier in the dining room so I tore into the package with glee. I replaced two or three bulbs just to see how they compare and flipped the switch (actually it took me three flips of switches to find the right one - it being a new house and all). The sound of disappointment could be heard to the North Pole - let's just say that the 40 watt equivalent claims were so grossly over stated that I had trouble seeing in the dark to re-read the false claims.
I wish I had taken a photo to show you but I had those back in the package so fast I didn't have time to hunt through all the boxes to find the camera. After reading further reviews online it turns out everyone else is having the same experience with these Lights of America LED bulbs, plus it seems the 30,000 hour life is over stated as well some even burning out after a few days.
The package does say "LED Accent" lights what ever that means - but if they aren't supposed to be used in a chandelier why do they have a picture of a brightly glowing chandelier on the packaging? I wonder what kind of LED lights they used for the photo - I want those kind.
One positive thing I can say about the Lights of America LED bulbs is that they truly are a heat free technology as they claim - if I had tried to remove the standard light bulbs in that chandelier after they were on for a few minutes I would have had crispy red fingers - the Lights of America LED bulbs came out as cool as they went in.
Bottom line unless Lights of America makes a 100 watt equivalent LED don't expect the light output to match your 40 watt standard bulbs. If you were looking for LED night lights these might work otherwise we'll have to wait until round two in the LED game.
An interesting side note, I couldn't find these bulbs on their website so perhaps they have come to the same conclusion, and by the way they don't make a 100 watt equivalent LED either.
If you've found a good brand of LED lights please comment below - I'd love to find some that really work as claimed.