I was spelunking in South America just this morning, I had my trusty high powered flashlight packed and ready for use when I heard the distinctive screech of an awakened and very thirsty colony of Desmodus rotundus, that's vampire bats to those not familiar with these fierce man eating creatures. (ok they aren't man eating but work with me here it's my story and I'm sticking to it)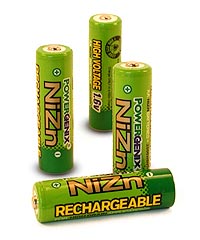 I reached for my trusty Maglite to protect myself with its hot bright glow to throw off the specialized thermoreceptors on the bats nose, only to find to my horror the Energizers were dead - as I soon would be too if I didn't find another means of escape.
Fortunately for me I had planned ahead - I reached for my PowerGenix NiZN rechargeable batteries loaded my Maglite like a wild west gunslinger and blasted myself out of trouble faster than you can say Environmentally friendly 100% recyclable 30% more powerful PowerGenix Rechargeable AA Batteries!
Well, ok fine you caught me, I wasn't spelunking in South America surrounded by hungry vampire bats this morning but I was trying out some very cool new rechargeable batteries from PowerGenix. These Nickel-Zinc (NiZN) batteries claim to be 30% more powerful than Nickel Metal Hydride (NiMH) rechargeable batteries and equivalent to standard 1.5v disposable alkaline batteries. That simply wasn't true - the nickel-zinc batteries hands down beat out the name brand alkaline batteries as well!
I did a side by side comparison with two of the same flashlights one loaded with a fresh package of Energizer Max alkaline batteries and one with PowerGenix Nickel-Zinc rechargeable batteries (freshly charged in the included 1.5 hour quick charger (which took closer to 3 hrs for the first time charging) - the PowerGenix batteries were brighter and had a larger light radius than the Energizers. I even switched the batteries between the flashlights to make sure there wasn't a difference and the PowerGenix still came out ahead.
The next round of tests matched up the PowerGenix NiZN rechargeable batteries against Energizer 2500 mAh NiMH rechargeable batteries and this is when the PowerGenix really shined - yes pun intended. While I'm not sure without using a light meter the difference was at least the claimed 30% brighter (probably more like 31.475% but I'm just guessing). I didn't have time to test my Duracell rechargeable batteries since Brandi claimed the NiZN batteries right quick for her camera.
The only downside to my cool rechargeable battery review experiment and negative mark against the PowerGenix batteries was when the plastic cover on the battery scraped against a sharp edge in the flashlight and tore. Possibly a rare fluke but my new toy now has an imperfection.
Popular Science magazine honored these PowerGenix Nickel-Zinc batteries with a Best of What's New Award in the Gadgets category recently and I can see why - they are the best rechargeable batteries I've tried so far. I only wish I had my old digital camera that refused to work with standard batteries - I'm guessing I could have used that camera for a few more years powered by PowerGenix Nickel-Zinc rechargeable batteries - or perhaps I really will tackle those Desmodus rotundus after all as long as I have my new PowerGenix batteries.
"Nickel-Zinc is the most recyclable battery chemistry on the market. Unlike many other materials, both nickel and zinc can be recycled again and again while maintaining their physical and chemical properties. Plus the zinc electrode contains no lead, cadmium or mercury.
PowerGenix batteries are certified as recyclable by the Rechargeable Battery Recycling Coalition (RBRC), a nonprofit public service organization dedicated to recycling rechargeable batteries. The batteries can be recycled at more than 50,000 RBRC collection sites in the U.S. and Canada."