Looking for a very last minute Valentines gift? Or, perhaps a unique "oops I forgot it was Valentines day" make up gift since it is now past the big day. These eco-friendly Fair Trade chocolates are certain to get you out of the dog house - well a little Fair Trade chocolate might help shorten the stay at least.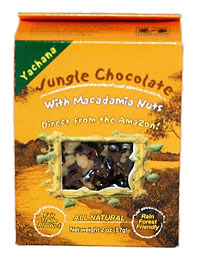 Yachana Gourmet Jungle Chocolates are created from Amazon cacao beans in Ecuador which are hand picked and sun-dried in special solar dryers, roasted to perfection chopped into bits and dipped in all natural Amazon cane syrup for a delectably delightful light sweetness.
Not only are these special Fair Trade chocolate nibs a special treat for the tummy you'll get bonus points for supporting a fair trade company that pays its farmers 200%-300% above the local market price for cacao, uses green energy, and uses non-GMO ingredients.
Yachana Gourmet Jungle Chocolates come in several tasty variations including: Brazil nut and coffee, pineapple, macadamia nut, raisin and coconut, and a mixed batch of all of them. Yum.
These Fair Trade Jungle Chocolates are for sale at eBay's World of Good. (maybe a bit late for a last minute Valentine gift - but it could save you from sleeping on the couch another night)