If you've been drooling over new HDTV technology like I have lately there is lots to be excited about, but if you don't have enough change left over in the couch crack to swing getting a new 3D HDTV maybe this will light you up... I got a sneak peak at a pretty big deal from a big online store (well okay it was probably sent to everyone who looked at LED TV's lately but it made me feel special)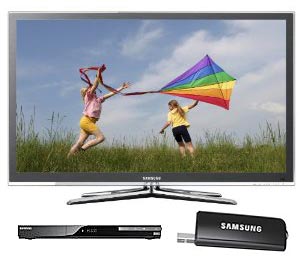 For a limited time if you buy a Samsung 6500-Series LED HDTV (either the Samsung UN46C6500 46-Inch or the Samsung UN55C6500 55-Inch) you'll get a free Blu-ray Player, LinkStick Wireless LAN Adapter, and a guy who will come out and vacuum and dust your living room!
Well, ok maybe not the free dusting/vacuuming but it does come with Enhanced Delivery, a slick option I wasn't aware of where a representative of the delivery company will bring your TV to any room suitable for testing, unpack it, and ensure that it is working properly to guarantee no damage occurred during transportation. That's a pretty sweet deal!
Samsung LED HDTV Eco-Friendly Features
Now this may not be on your top list of features in this sweet little magic picture box but the Samsung LED HDTV Exceeds ENERGY STAR Standards. (hey this is an Earth Friendly blog and I had to justify writing about sweet new tech somehow didn't I? Maybe Samsung will send me a free LED TV so I can give an in-depth review... fingers crossed)
LED HDTV's are so Energy Efficient they use up to 50% less energy than the latest ENERGY STAR specifications! Not only is it cool to be green these days but it means you are saving money while you stay up all night watching your favorite TV show marathon on your free Blu-ray player.
Check out these bestselling Samsung LED HDTV's for sale below
I didn't get any moolah from Samsung to toot their horn (I'll accept a free TV though - doesn't hurt to try) but if any kind soul buys something from an eBay link within this site I will eventually make a enough to buy myself a Samsung LED HDTV - well ok so it would have to be a massive amount of people but it could happen - if you are one of those people thank you kindly.