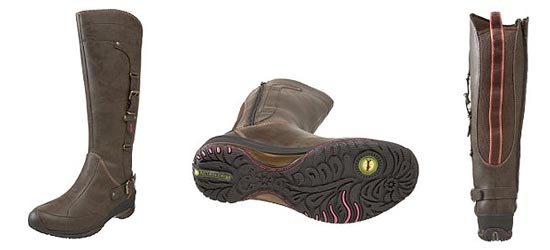 As chance would have it we were having a mini family reunion when my Jambu Colorado Vegan high boots arrived and let me tell you it was fun seeing everyone's reaction. The over-all consensus amid the oohs and ahhs over the unique look was a general agreement that these Jambu vegan high boots were something different.
When I think about high boots I think heavy, clunky and uncomfortable. We put up with them for fashions sake and not because they are very functional. The Jambu Colorado Vegan high boots are a break from that assumption.
I noticed right away how comfy and flexible they were - not something that needs to be broken in. The Memory Foam footbed feels like a soft pillow for your feet and the unique back mesh ventilation kept me from getting hot and sweaty even on hot days or all day shopping at the Mall of America.
Knee high boots are all the rage this season. Keen, Merrell. Teva they all have a line of ladies knee high boots and if you are familiar with these brands known for their high quality I bet you'll love Jambu Colorado-Vegan high boots. Imagine the rugged outdoorsy feel you get with brands like those and mix in a dash of feminine style with a unique creative sole (or should I say soul) and a touch of color here and there - Jambu boots stand out from the rest.
Walking through the forest of high boots at a trip to the Mall of America I felt one step ahead of the high boot trend seeing all the swarms of people checking them out. Since last spring when I fell in love with my first pair of Jambu Planet Vegan shoes at Nordstroms I have really become a Jambu fan and I look forward to all the creative new designs they will come up with.
If you are looking for a stylish comfortable pair of high boots this season take a look at the Jambu Colorado Vegan boots, you'll feel like you have a secret that is just burning to get out. You'll know in your heart that you are staying true to your vegan lifestyle but no one else will - they look and feel like real leather.
You can find Jambu Colorado Vegan high boots for sale at a number of specialty retailers including Endless.com, PlanetShoes.com and of course a number of new and used Jambu Colorado boots on eBay.
Have you gotten your hands on some great high boots this season? Share with us some of your favorite things to wear with them in the comments below. (I could use some new ideas too)
Find more Jambu footwear styles for sale on eBay below