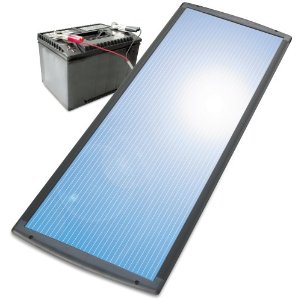 Despite my last rant that Amazon does not have an eco-friendly or green category for their Cyber Week Lightning Deals they do offer some great sales on eco-friendly items now and then. For instance if you are one of the lucky peeps to read this in the next hour or so you might be able to catch this great Lightning Deal on the Sunforce 50032 15 Watt Solar Battery Charger.
This 15-watt solar charger plugs into your vehicle's 12-volt lighter socket so when you are out in the boonies becoming one with nature you can still have the luxury of bragging to your friends on Facebook that you are on vacation. Intended to work to charge your car, boat or RV battery but many inventive folks are using these Sunforce 15 Watt Solar chargers mounted on their homes or elsewhere for some extra free energy.
These originally list for $129.99 but thanks to the Amazon Lightning Deal you can grab one (or several) for only $70! (Amazon's regular price seems to be $92.72 but with the Lightning Deal it is down to the $70 - if you make the deadline the price will be shown in the cart - good luck!)
Update: This Lightning Deal is gone but the price on solar charging kits are dropping as new technology comes out. This Sunforce 50032 15 Watt Solar Battery Charger is now on sale for $79.95 or you can grab the newer model Sunforce 50033 for even less.
Check out these other Sunforce solar charging kits for sale at Amazon